As a part of Watch This Space, CultureSource has commissioned 4 artists based in Southeast Michigan to highlight their favorite works of public art, to encourage you to get offline, go outside, and see for yourself. Second, artist duo Angelika and Alana Wynes!

Angelika and Alana Wynes (Street Art Connection) are artists and educators based in Mount Clemens, Michigan. Below they've chosen some of their favorite works of public art in Macomb County, explore their picks, learn about their inspirations, and check out their own work below!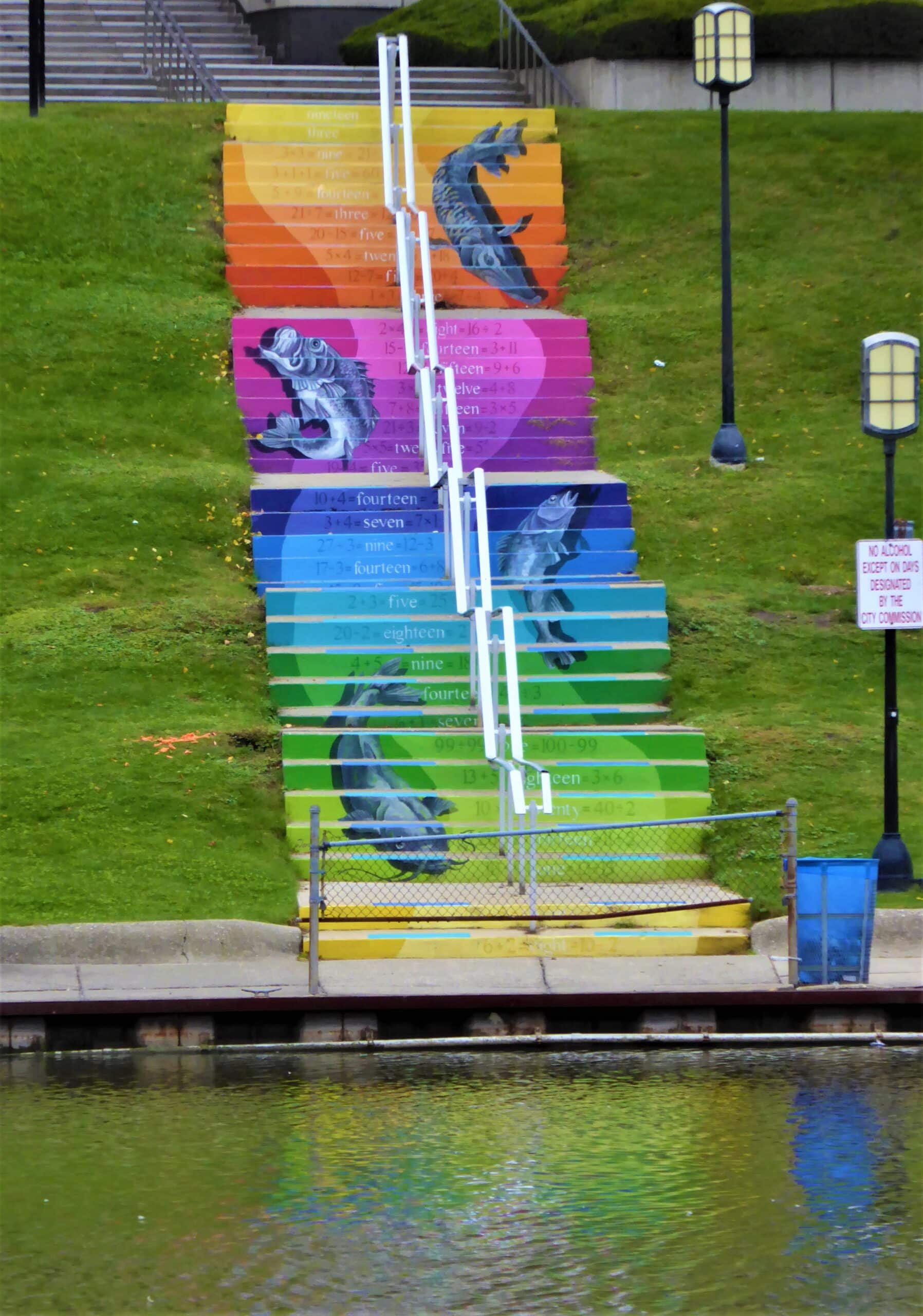 One Fish, Two Fish, Red Fish, Blue Fish by Wendy Popko
Address: The stairs to the Clinton River off Northbound Gratiot in downtown Mount Clemens, MI (across the Macomb County Circuit Courthouse)
This mural displays native fish swimming down the stairs towards the Clinton River. Here viewers can picnic, watch kayakers passing by, all while being embraced by this colorful and interactive mural. Mathematical equations on each step add a fun and educational learning experience for all.  Its vibrant colors can best be seen from across the river.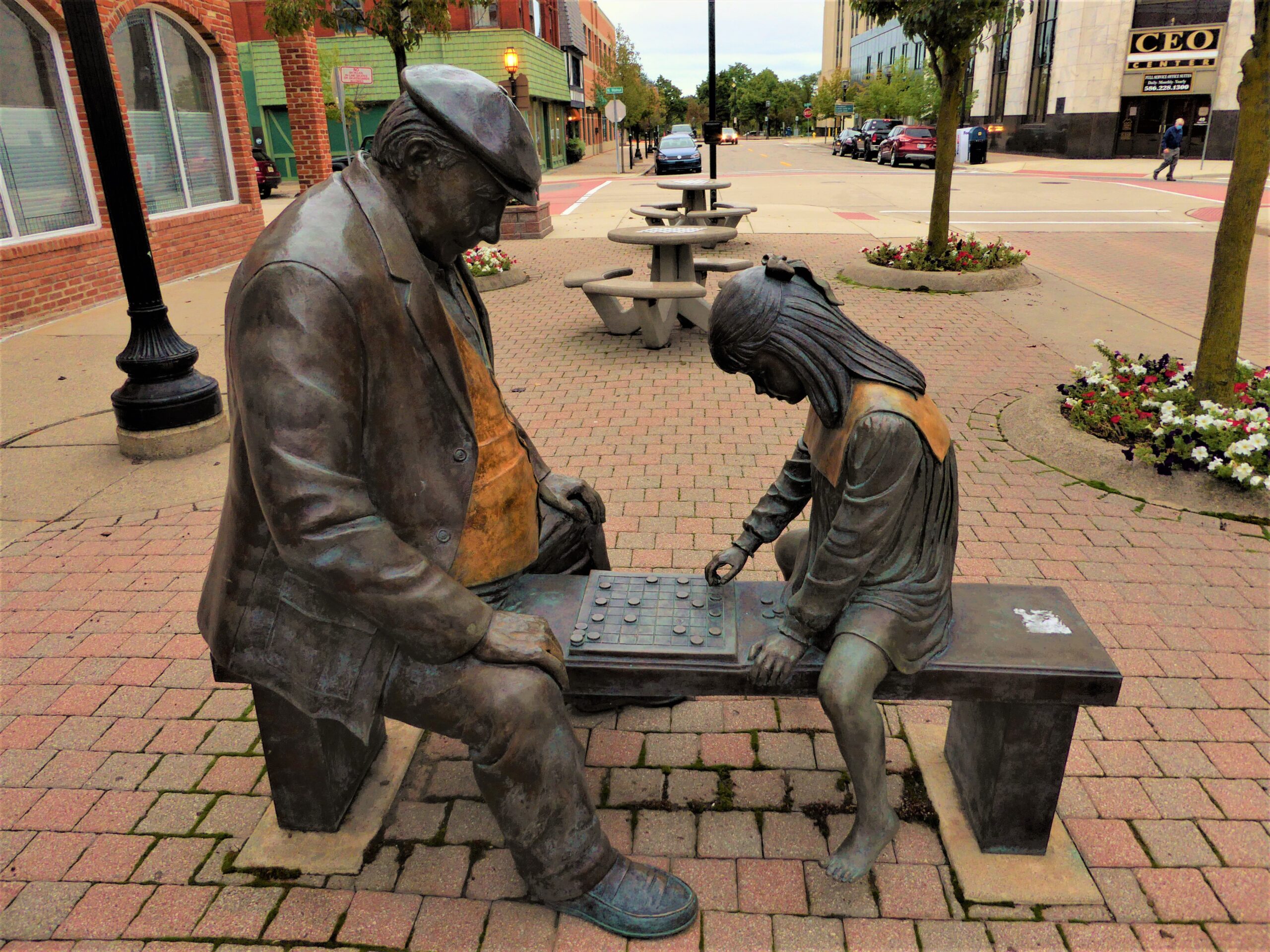 Apple of My Eye by Janice Trimpe
Address: Corner of Macomb Place and N. Walnut Street in downtown Mount Clemens, MI
This figurative 1,000-pound bronze sculpture has been a heartwarming attraction in Mount Clemens for many years. The life-size public sculpture represents what looks like a young girl engaging in a game of checkers with her grandfather. Visitors interact with this piece by taking photos with the figures, and adding clothing such as socks and scarves to keep them warm over the winter months.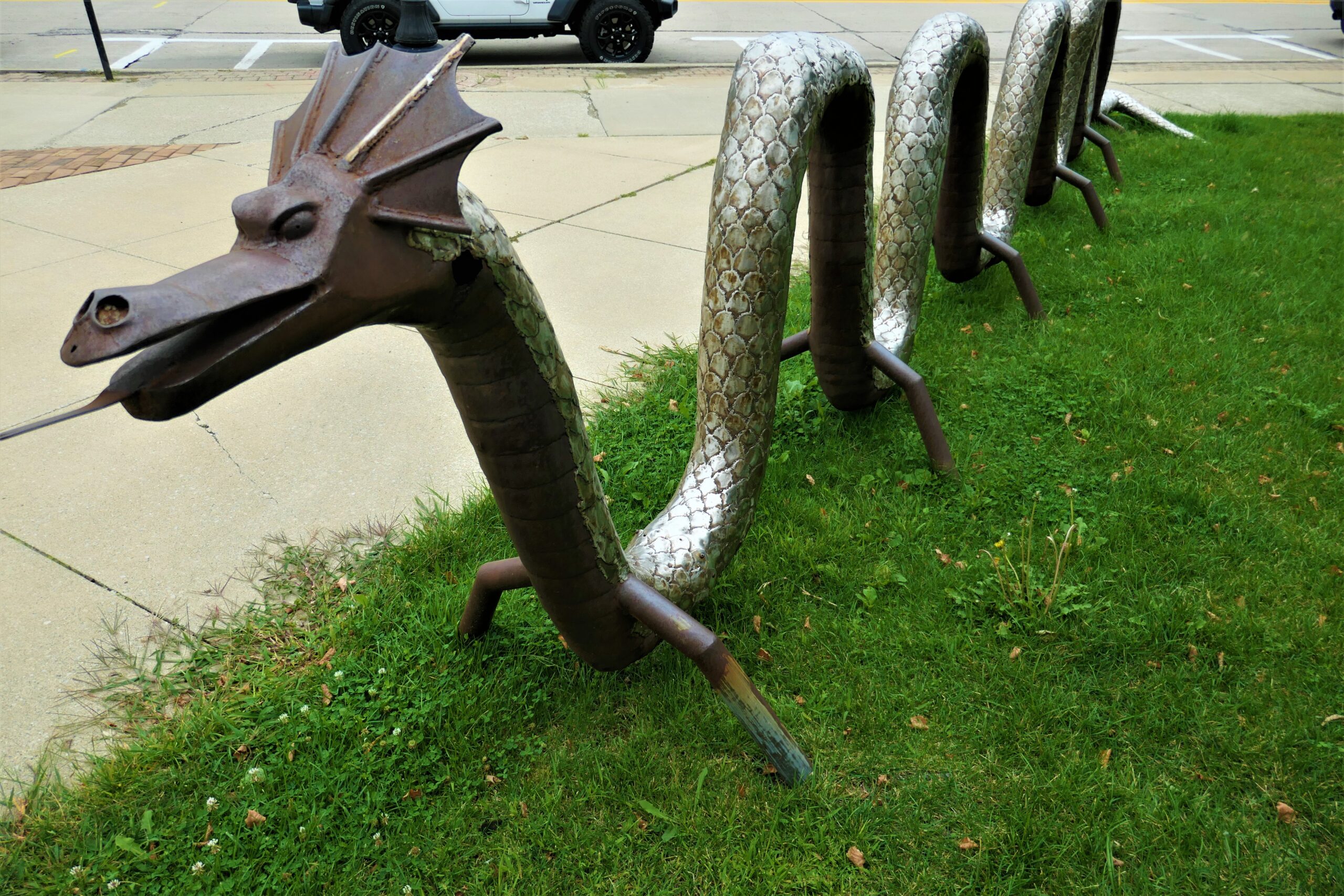 Sea Serpent Bike Rack (Cecil) by Tom Crimboli
Address: In front of the Anton Art Center at Macomb Place & Gratiot in downtown Mount Clemens, MI
We love this piece because this sculpture is interactive, engaging the viewers with its texture and movement. The sea serpent, named Cecil, can be climbed on and crawled under while it simultaneously serves at a bike rack. After visiting with Cecil, make sure to check out all the other public sculptures and interactive art surrounding the Anton Art Center.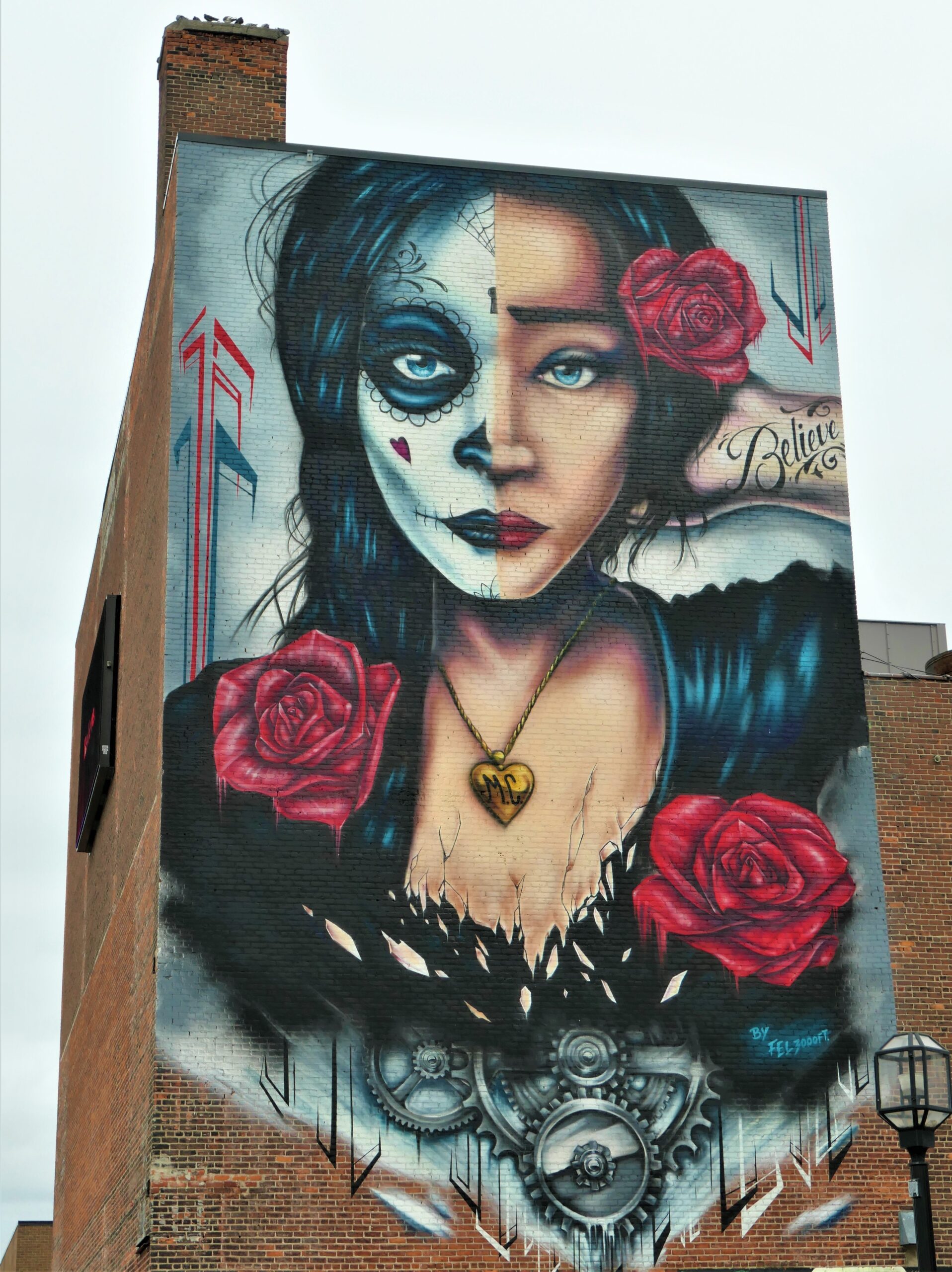 The Believer by Fel3000ft
Address: On Side of the Emerald Theatre in downtown Mount Clemens (best viewable from Cass Ave.)
"The Believer" shows a women surrounded by symbolic images that represent the city of Mount Clemens. This massive mural speaks to the progression and renewal of the city, and has transformed its appearance over time making it a unique piece.  Downtown Mount Clemens has truly evolved into an "Art City" that one must see to believe.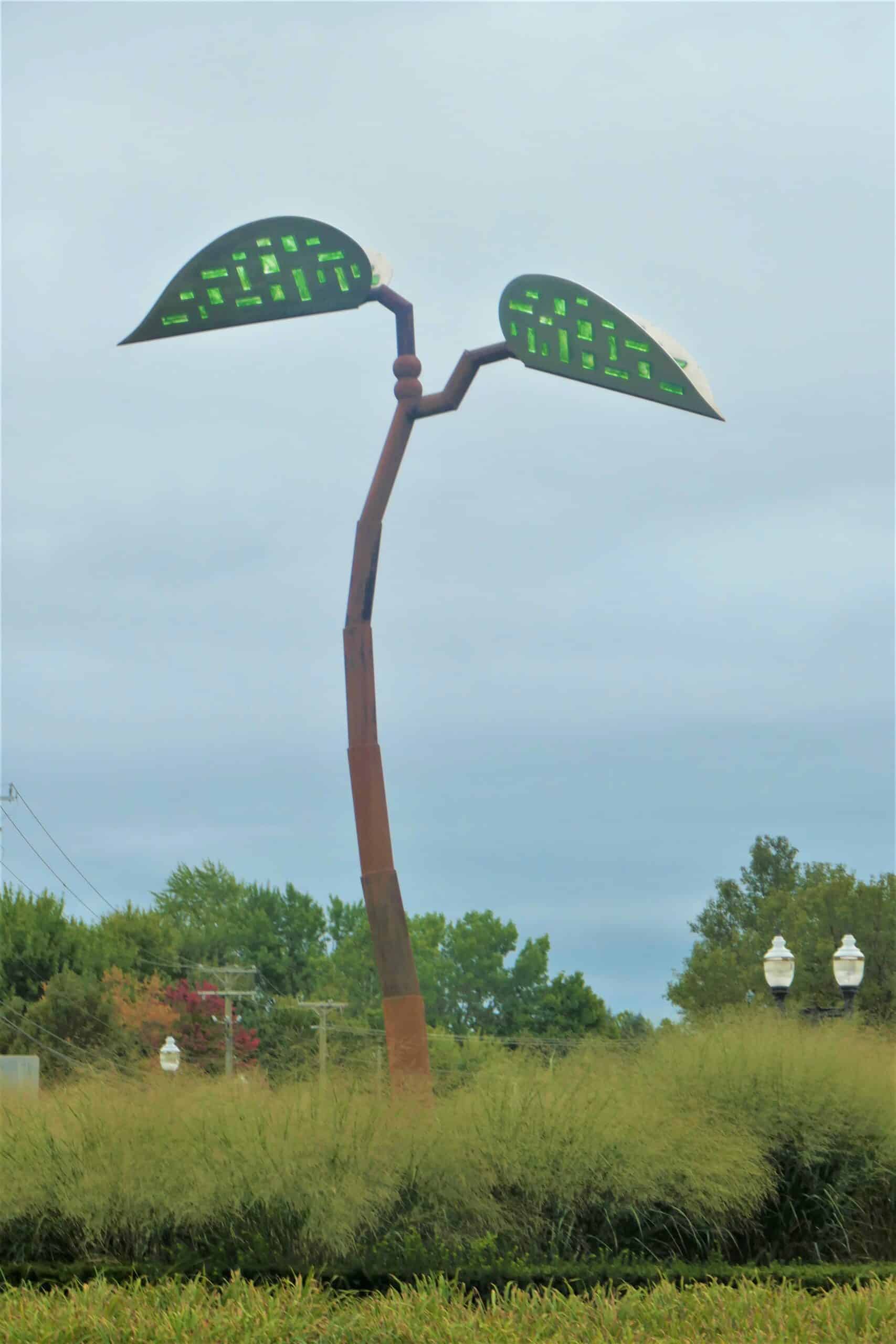 The Seed by Erik and Israel Nordin
Address: In the traffic circle at Dodge Park and Utica Roads in the city of Sterling Heights
This 26-foot sculpture has a positive message as it displays a seed bursting into a plant in the midst of a growing city. The media used to create this tall sculpture is what makes this piece even more fascinating. The blown glass is a beautiful sight, especially at night.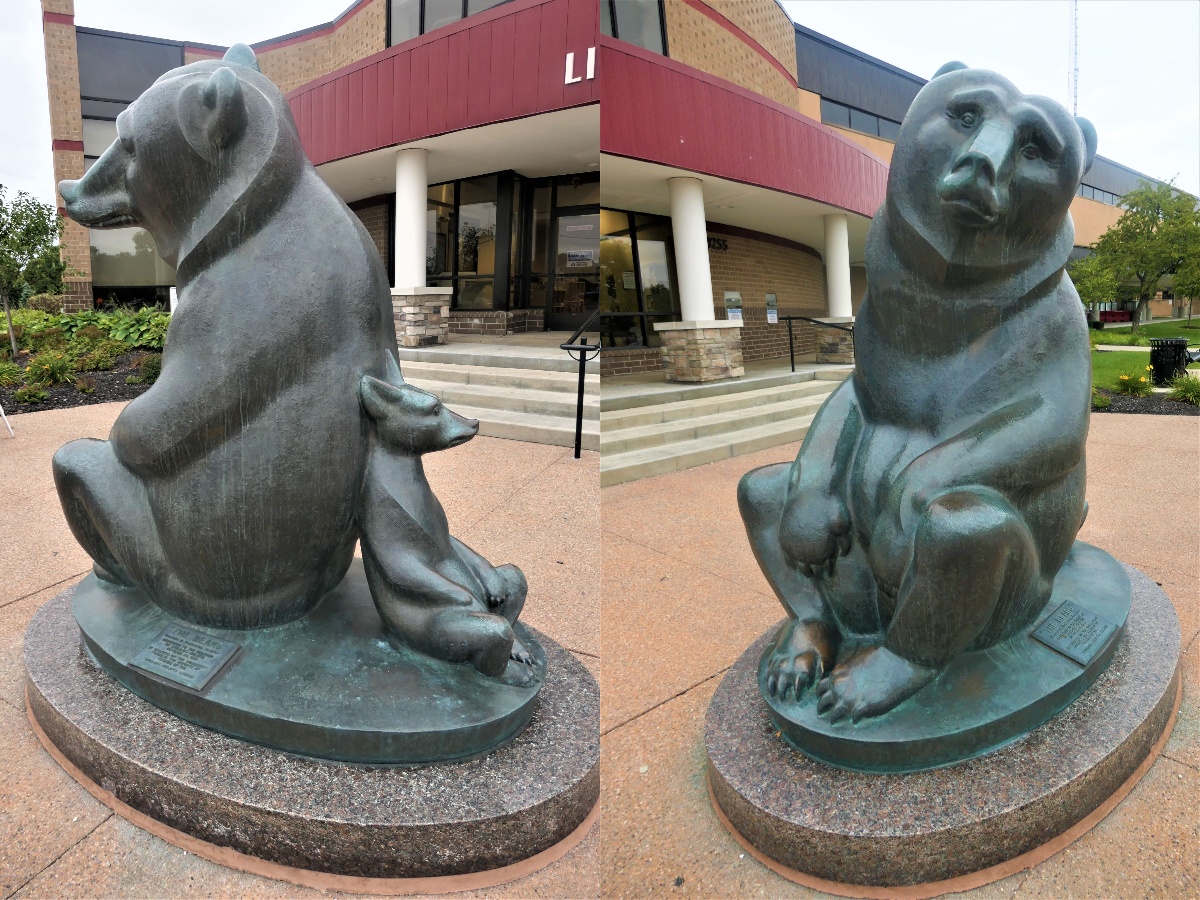 Two Bears by Marshall M. Fredericks
Address: Outdoor entrance of the Sterling Heights Public Library (40555 Utica Road)
This 6-foot bronze sculpture makes a profound mark on the meaning of family and community. As the small cub leans against her mama bear, it evokes a feeling of comfort and trust. Its beautiful craftsmanship and large-scale make Two Bears a great attraction. This public library and the surrounding area has so many more public sculptures and murals that are a must see.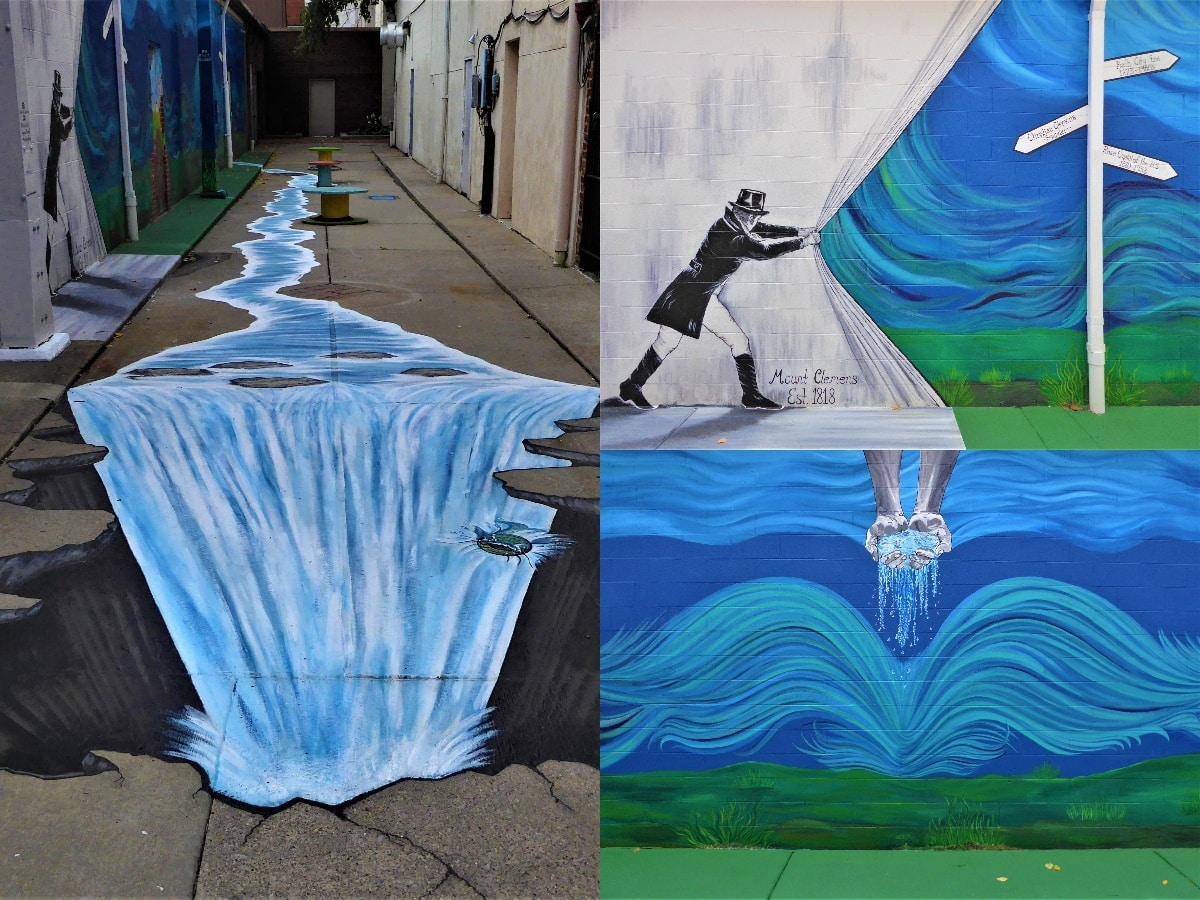 Bath City Alley by Angelika and Alana Wynes – Street Art Connection
Address: Cherry Street Alley off 64 Macomb Place in downtown Mount Clemens, MI
This mural reveals the history of the city of Mount Clemens and all its wonders. Through playful and interactive art, this mural brings life to the community of Mount Clemens with a variety of awesome photo ops and an exploration of history for all ages. Its 3-D waterfall gives viewers the optical illusion of falling into the depth of the city.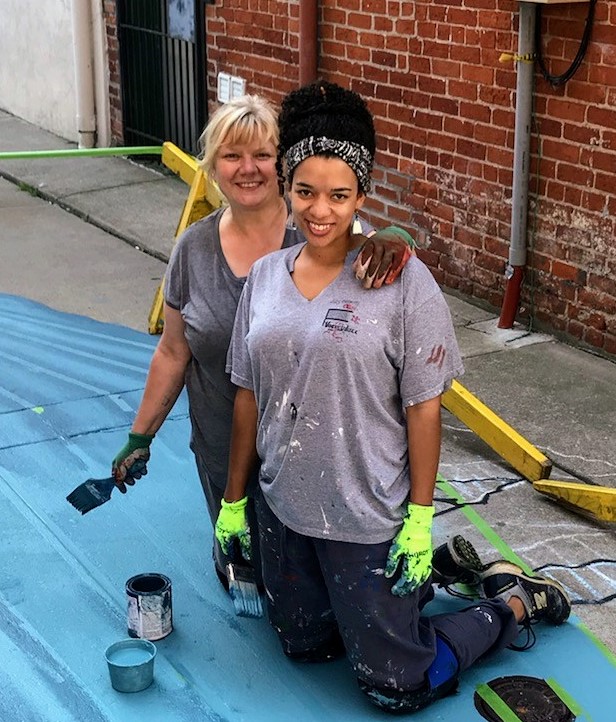 Angelika and Alana Wynes
Artists
Angelika and Alana Wynes (Street Art Connection) are artists and educators based in Mount Clemens, Michigan. Originally from Berlin, Germany Angelika and Alana work with a variety of media, specializing in painting and sculpture. Both artists teach art to students of all ages while being actively engaged in their community. Angelika is also founder of the after-school program "Art Explorers", which nurtures the talents and minds of young artists. Their projects include murals, 3-D pavement illusions, paintings, illustrations, photography and sculptures. Follow us on Facebook at @streetartconnection, Instagram at  @bathcityalley, and view their website here.