During virtual convenings and strategy sessions, illustrator and graphic recorder Yen Azzaro has worked to capture common themes discussed by CultureSource members as they learned and collaborated through the Digital Access for the Arts Program (DAAP). CultureSource caught up with Yen to talk all things digital and get her perspective on the future of arts in a post-pandemic environment.
What themes were the most consistent across the DAAP convenings?
There were two themes that were apparent during all the DAAP programs. The first was really listening and responding to the needs of the moment. Because almost all communications and services for organizations were digital, it was apparent that simplifying processes to what was vital was a priority. The second theme central to all the programs was how human-centered the advice was. Whether it was about launching a new video subscription or protecting online content, the messaging was about how it uplifted positivity and joy during this time.
From your perspective, how did the DAAP program help participants plan for sustainable futures?
It really challenged folks to think about how they are or are not communicating their brand, protecting their content, simplifying processes for employees, donors, beneficiaries of programs, and stakeholders. I thought it was also an impactful glimpse into how some organizations are doing it right, not only during times of turmoil, but being preemptive to trends before they happen. That takes vision, innovation, and agility—traits of creative people!
Due to COVID-19, more arts and culture work exists in the digital space. Do you think this trend will continue as we move into a post-pandemic world?
Absolutely. As creatives, we're advocating, representing, and marketing our work and events online. I think the quality of digital experiences is only going to improve over time and I always encourage artists to build a world of their own online. That way, anyone, anywhere in the world can appreciate your talents. That's true regardless of our pandemic state.

About DAAP
The Digital Access for the Arts Program, created in partnership with CultureSource and the Rocket Community Fund, provided arts and cultural organizations with resources to build, grow, and transform their work in preparation for a sustainable future. The program provided funding to CultureSource members to pivot to online mediums due to Covid-19 and offered learning opportunities so members could develop strategies to thrive in a hybrid arts environment.
How did you get started in creative arts?
I've been drawing for as long as I can remember. My dad is an artist and my parents took me to art museums whenever we traveled. I remember drawing celebrity Oscar dresses every year and designing outfits on index cards.
What is your current focus? What kinds of projects do you pursue?
Currently, I'm an illustrator and graphic recorder (the practice of capturing what people say in real time in imagery and text) about 90% of the time. The other portion of the time I collaborate with communities making visible public art. Last fall I was able to combine my passion for information-sharing and art-making through my street mural, Zip "Code." I painted a map of Washtenaw County and highlighted the disparity of quality of life and life expectancy based on zip code. The numbers are startling.
Tell us a little about where you're from, where you've lived and where you're going?
I was born in Taipei, Taiwan (where my mom is from) and spent time in Malaysia (where my dad is from) before we emigrated to the States when I was three. From there we spent time in Tecumseh, Michigan where we were one of three Asian families in town. We would move seven times cross-country (Anaheim, New Orleans, Orlando, Pasadena) before we moved to Ann Arbor my 6th grade year. Finally having some roots for middle and high school gave me a chance to create art and keep it for inspiration. I attended my first year of college at the School of the Art Institute and finished my BFA at University of Michigan Stamps School of Art & Design. Now that I have a family of my own, it's of utmost importance that I create stability and excitement for my son through exploring the world through food, art, culture, travel. I'm rooted to Ypsilanti right now. Its people, history, and social vibe match my priorities right now.

Would you change anything, if you could?
About the world? Hell, yes. Racism, violence, hunger and poverty would be at the top of my list. About my own life? Not a thing.
What art inspires you right now or challenges your thinking?
Seeing immersive art installations is my favorite thing. Pieces like Yayoi Kusama's Fireflies on the Water or Subodh Gupta's This Is Not A Fountain really stand out to me as highlights over the last couple years. Both pieces involved a multitude of materials and the element of water, which is such a wondrous and impressive medium to work with. They remind me that with incredible forethought and intent, we can tempt minds to suspend the belief of where we are in the moment and go somewhere else.
What role does art play in our society, specifically in times of great change? How can we leverage art for good?
Art is a unifying balm for many of us when we don't have the proper language to emote pain, terror, and atrocities we see against the human condition. Collaborating on art, like the recent Black Lives Matter murals in Ypsilanti is a good example of many coming together for one collective good to spread a message.
"Art doesn't have to be political,
but I do enjoy a strong, subversive jab
when you can work one in there to get your point across."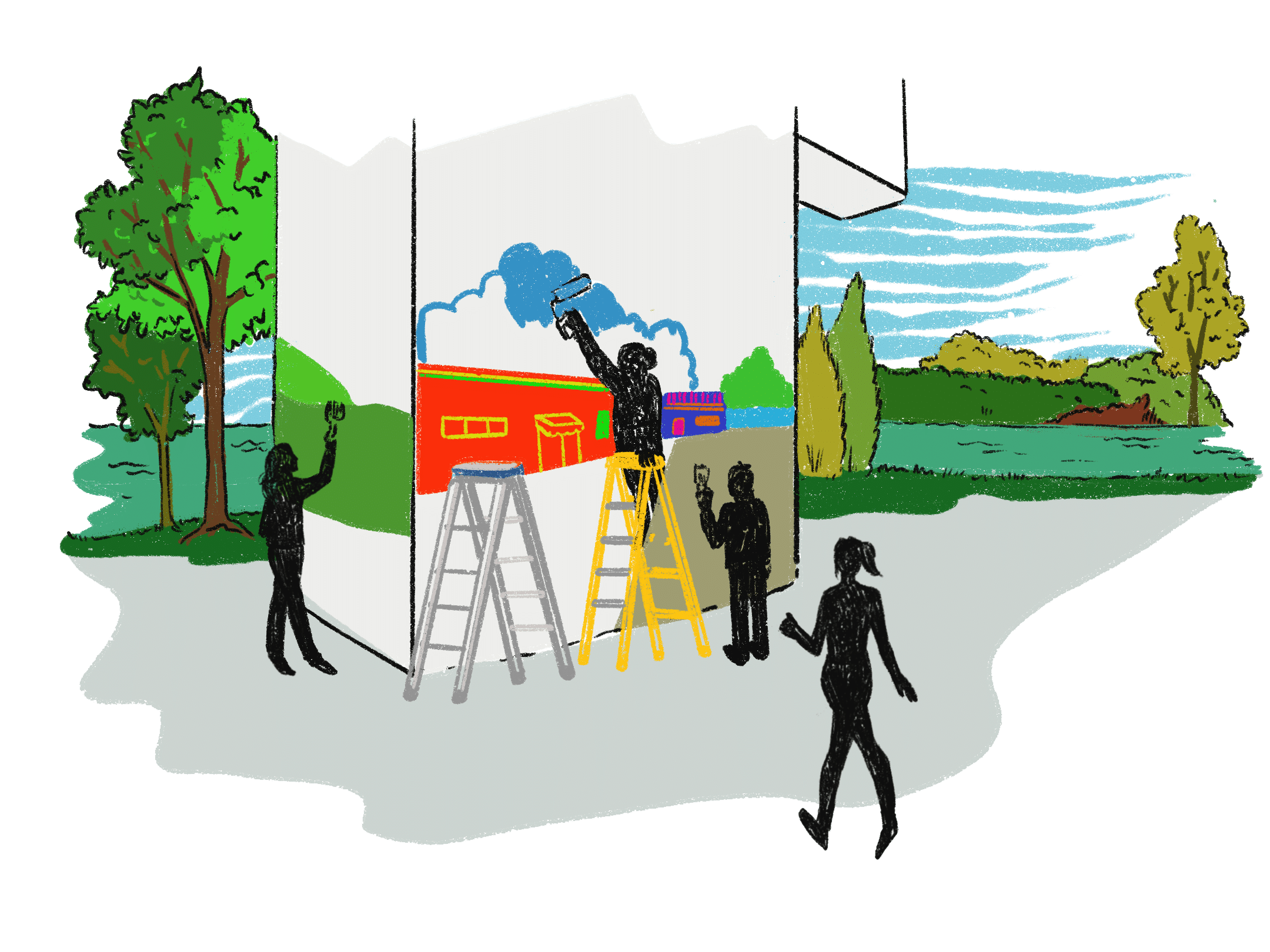 Getting Started in Illustration
What does a student or novice illustrator need to know before they get started?
Look at all kinds of art, not just the medium you work in. Practice the thing you do, everyday. Get your hands on the best materials you can. That said…
Do you need expensive tools (iPad, Apple Pencil) to be an illustrator in 2021?
The short answer is no. There are plenty of illustrators working on paper, canvas, newspaper, whatever they can find. But I do encourage young artists to invest in drawing paper (not copy paper) and (softer) graphite pencils, even for simple drawing.
What advice would you give to an artists who wants to make their craft a full time job, but is a bit lost on getting started?
Envision you as an artist. What kind of work do you do? Is it commercial for clients or personal? How much time do you spend on your work? What materials do you use? What do you charge and how much do you make annually? And the most important thing, what does your brand look like, consistently? Now, write that all down. Then make a target date, work backwards and respond to your artist identity before the outside world dictates who you are.
Secondly, this message is for all the parents out there. Creating art is a true career. From an outsider's perspective, it may not pose itself as the most lucrative path but it's one that has infinitely more possibilities than I ever understood growing up. When a young person is creating art, much of it looks the same because they haven't developed a style yet. But if an artist has the tenacity to spend those hours sharpening their craft, then the technical stuff can come later. It's the passion and commitment that's hard to come by.
Essential illustration tips for getting started in graphic recording or illustration?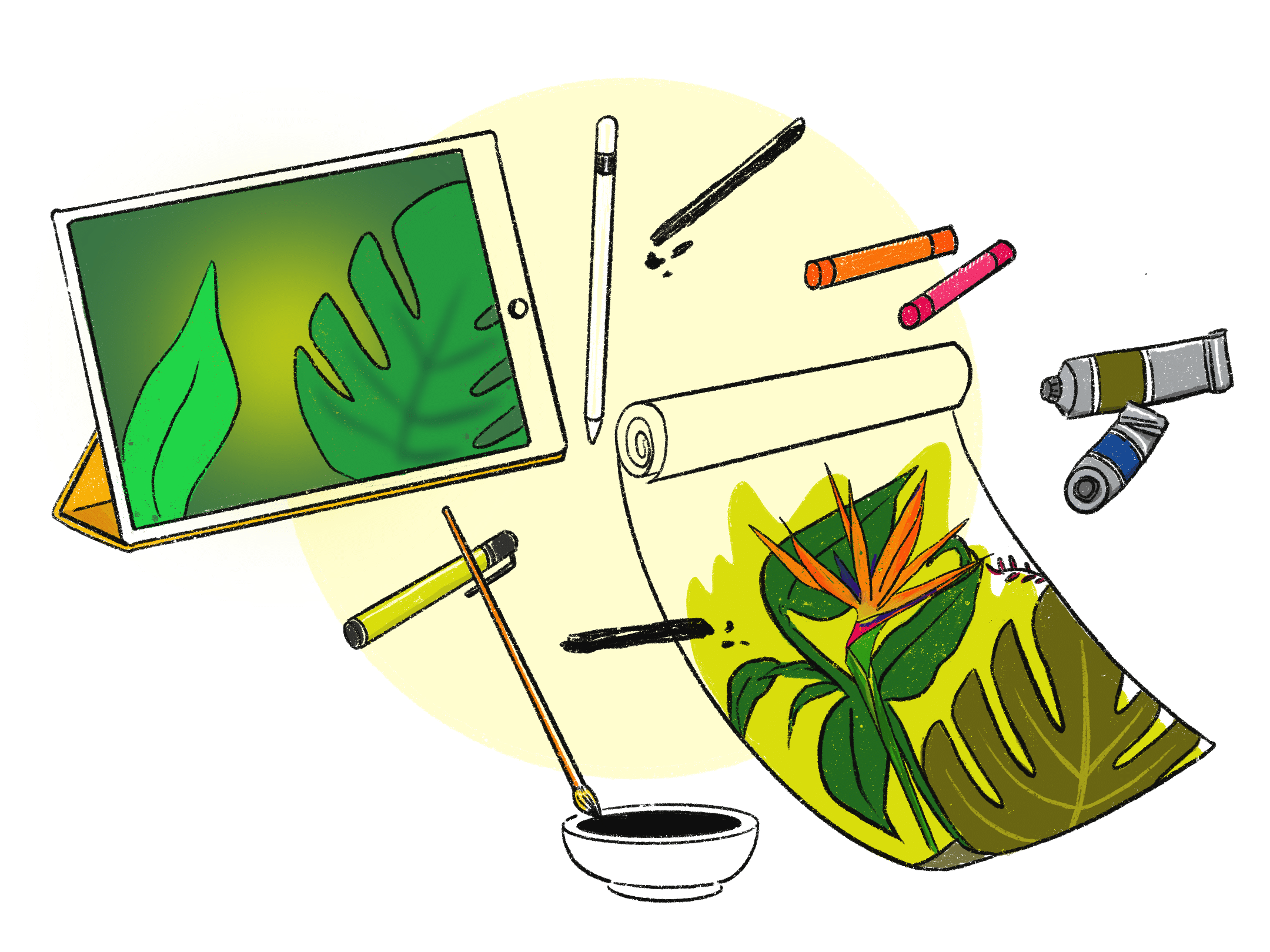 To become a graphic recorder requires a few skills. Sure, you should be able to draw and have nice penmanship, but more than that, you have to be able to process quickly and listen deeply. When I'm recording an event with a lot of voices I'll be furiously taking notes on post-its and slapping them where images will go later, or drawing the outline of a shape so I give myself a cue to go back and finish that concept. To practice, I suggest listening to a news story or podcast that has a lot of visuals. Try to pare it down to the most essential information and consider the hierarchy of information.
Look at lots of other people's work but find the style that resonates with what you do well and also conveys your personality.
Every line is a piece of communication and the quality of your linework is the framework for all the work you do. Get confident in your lines, hinging from your elbow, not just small movements from your wrist.
Trust in yourself as a creative being that has expression to share. As you get better and better, those around you will notice.