Twenty-five years ago, New Detroit—a coalition of community and cultural organization— and ACCESS decided they wanted to do something that would bring people together and build understanding between those of different backgrounds and faiths. What did they come up with? The Concert of Colors.
"They felt that what better way to do that than have a celebration of artists," said Kathryn S. Grabowski, Humanities Program Coordinator at the Arab American National Museum (AANM).
Now celebrating its 26th year, the festival will take place from July 11-15 around Midtown Detroit and is being produced by the AANM, with local partners like the Detroit Institute of Arts, Third Man Records, and the Michigan Science Center, among others.
The schedule is as diverse as the venues. Over the course of five days, guests can see a variety of live events—everything from the annual forum on Community, Culture & Race with this year's keynote speaker Dr. Mona Hanna-Attisha, the pediatrician who exposed the Flint water crisis; and a family-friendly puppet performance. That's only the tip of the iceberg for the festival's schedule, which still has the same focus as it did when it began.
"What it does for the community is bring people together who look different in the same room, celebrating artists who are extremely diverse and talented," Grabowski said.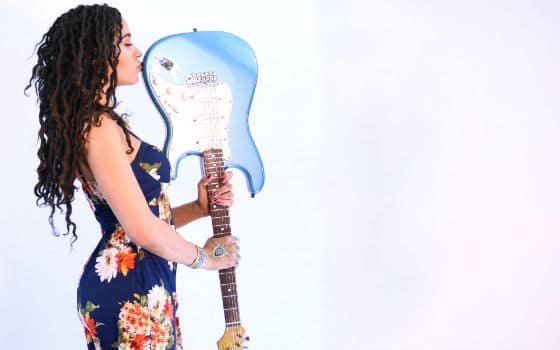 Like Mayaeni, a singer/songwriter and electric guitarist  from  the Detroit area. Mayaeni will be performing Friday night, July 13th at the Farnsworth & Brush Stage just outside of the Charles H. Wright Museum of African American History.
She's performed at the festival multiple times before with the Don Was Detroit All-Star Revue— who will be there again this year—but this will be her first time doing her own set.
"It's just a cool event to be a part of, mixing all these cultures," Mayaeni said.
Mayaeni is the epitome of what the Concert of Colors stands for. She is the daughter of a  Sierra Leonean  mother and a Jewish father.
She said that growing up with a variety of cultures allows her to relate to many different types of people. For her, she can appreciate other cultures and at the same time be able to see past it.
"We're all one at the end of the day," she said.
She's proud of both sides of her family, with each influencing her music in large ways. While her mom listened to a lot of soca and reggae, her dad listened to more rock n' roll. All those influences blend in her music—a mixture of soul, blues, rock, and pop—whether it be the rhythms of reggae or the electric guitar.
What really got her into singing wasn't any of that though. It was a Disney cartoon.
"As far as really going for it, The Little Mermaid really affected me," she laughed. "I got the karaoke set for that movie. I think it really started there, trying to sing those songs perfectly."
Then she started doing talent shows and writing more of her own songs, all at the early age of 11.
After high school, she moved to London before heading to New York. Those years were tough, but she kept going.
"I figured I'd rather be doing something I love," she said. "It's that, 'What if?'…living with that kind of wonder would just be too heavy for me."
Now, she's signed with Jay-Z's Roc Nation and has released a song each month this year, which will eventually become an album.
For now, though, she's focused on performing, and representing, Detroit, a place she enjoys performing in.
"It's cool cause there's always that hometown vibe," she said. "You have a lot of family and friends, so that will be fun…it almost feels like it will be a big BBQ or something."
The Concert of Colors takes places on stages throughout Midtown Detroit July 11-15. To view the entire schedule, click here.