From the surface level, the Swords into Plowshares Peace Center and Gallery's most recent art exhibition opening looked like any other gallery opening—sounds of laughter as old friends ran into each other, cameras flashing as artists stood proudly next to their works on display, music filling the venue—but the artwork on the walls told a different story. This was not a typical art show. Rather, it had a lot to say about one of America's hot-button issues: gun violence.
When the Women's Caucus for Art (WCA), Michigan Chapter, came to the gallery with the idea for the show GUNS: Artists Respond, saying yes was easy.
"The artwork that we present here has to do with social justice issues, nothing else. That's what we're premised on," said Clara Lawrence, the gallery's director. "Part of our goal is just to present that type of artwork."
Lawrence said a show like this is terribly vital. The Women's Caucus clearly agrees.
"Many of us in the Women's Caucus are really interested in political art or social justice issues and gun violence has just come to the top of the list," said Margaret Parker, secretary of the Michigan Chapter and the national Communications VP. "The closer we came [to the opening], the more urgent the show became."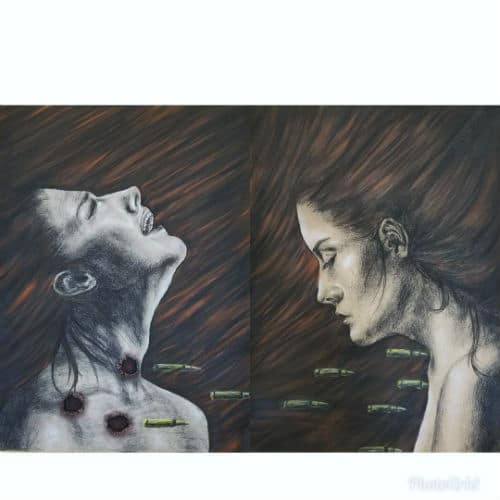 The exhibition, which will be on display through May 18th and has been planned over the course of the last few years, has over 80 pieces by 53 artists from all over the world. Works touch on everything from hopes for stronger gun control laws to pieces dedicated to the victims of mass shootings from Columbine High School and Sandy Hook Elementary School.
"We all decided ahead of time that we wanted as many pieces as we could possible fit," Parker said. "We wanted it to be stuffed with artwork."
And the gallery is. From smaller pieces spread across two floors, to one of the show's most striking pieces, a drawing of an elephant made out of rubbings of guns and gun shapes that takes up an entire wall.
"Its like the elephant in the room that nobody can do anything about," Parker said. "The only drawback is that it's a wonderfully done elephant, you almost want to go up and hug it. But a lot of the pieces are like that."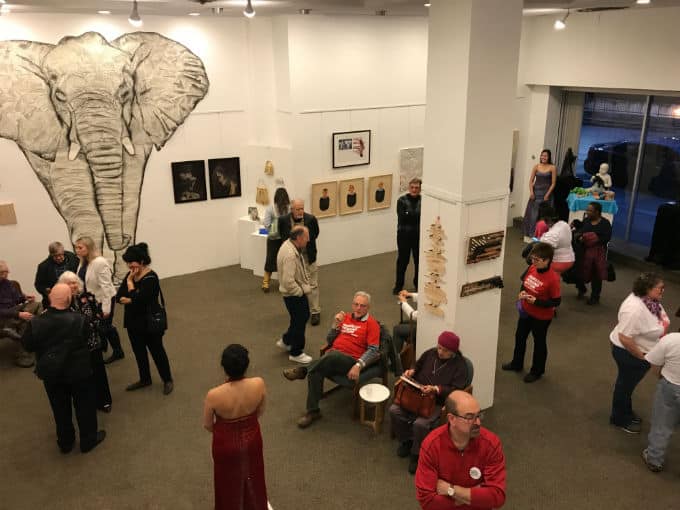 Parker said a lot of the artwork has bits and pieces of everyday life, like crayons, Scrabble squares and toys, which make a cultural statement about how guns are so embedded in our lives and can be found seemingly anywhere.
The show also has sculptures, prints with phrases demanding stronger gun laws, one painting discussing arming teachers, and prom dresses embroidered with the outline of guns.
"What I love about art is you can make something people just have to face, they have to look at it, look where it's gotten us, and then people make their own decision," Parker said.
While the Women's Caucus typically only has pieces by female artists, they extended this call for artists to all genders. Thus, GUNS: Artists Respond has pieces by both men and women, as well as students from 15 different states, including Michigan, and one from Australia.
"That's the reach of gun violence, and we know that the major weapons manufacturers are in the United States," Lawrence said. "That's whose heart we would really like to touch."
Those who attend the show will notice that none of the artwork has pro gun sentiments.
At the show's opening reception, Brenda Oelbaum, president of WCA's Michigan chapter, discussed how they had hoped they would get pieces that were across the spectrum in regards to how people feel about guns. They didn't, though. Oelbaum mentioned that she thought this happened because of what's going on in our world right now.
"People really are just, I think, traumatized for one thing, and they are sad. For people who have experienced gun violence personally, their life is crushed. How do you get back from that?," Parker said. "A lot of people that that happens to, all they can do for the rest of their life is work to solve gun violence."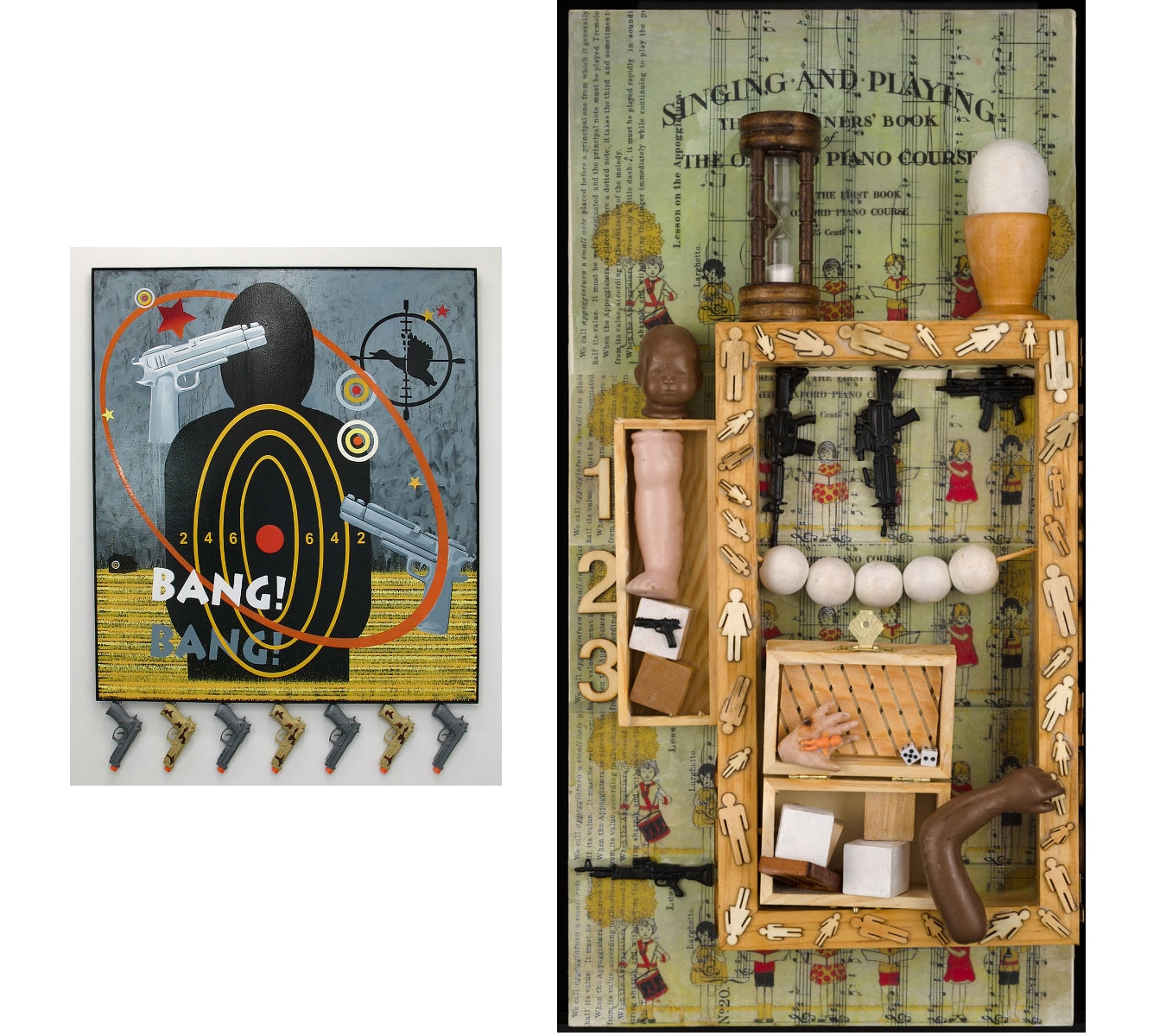 Margi Weir, an artist whose Home On The Range is in the exhibit, has been creating pieces around the theme of gun violence since 2014. This particular work is about the accessibility of weapons in our society for children and raising children with guns in the home.
Around Thanksgiving 2014, there was a shooting in Detroit's West Side that the Detroit Free Press called "The Foreclosure Shootings," and involved two of Weir's friends. Weir called it a gun battle and everyone involved had a concealed carry permit.
"Personally, I got so angry and frustrated with everybody feeling they need to be armed here in Detroit," Weir said. "And what should have been a fight, maybe a fist fight, ended up in the death of my friends."
This was also around the time of the death of Michael Brown in Ferguson, MO. Weir said all of it pushed her in to making work about guns in our society.
"Every time I think, 'I can't believe that these pieces are going to continue to be current' then there's another mass shooting or something horrible, and it's back in the news again," she said. "The issue keeps coming to the forefront I think because we keep never doing anything about it."
Despite everything, Weir still has hope, especially now with the survivors of the Stoneman Douglas High School shooting showing no signs of slowing down, and artists creating pieces that say something.
"I'm not sure I ever have hoped that I can change anybody's mind, but I hope that through making art about sensitive situations or problems in our culture, the audience will continue thinking about these issues on their own," Weird said.
"Maybe the kids will do something about it," she continued. "There's always hope, right?"
Photos courtesy of Swords into Plowshares Peace Center and Gallery. GUNS: Artists Respond is on view through May 18th.