CultureSource is excited to share that we are deepening our partnership with long-time collaborator and program presenter EmcArts.
After assessing the evolution of our organizations and opportunities to be of the highest and best service to the cultural sector, we have agreed to CultureSource's acquisition of EmcArts.
EmcArts, devoted to the discipline of adaptive changemaking for over 20 years, is a social enterprise that works alongside leaders, organizations, and communities across the US and Canada as they take on their most complex challenges.
Approved unanimously by both organizations' boards of directors, EmcArts will dissolve and transfer its assets to CultureSource, which will then take the reins in deepening and expanding the work of helping people throughout the arts ecosystem build adaptive capacities, make change, and innovate iteratively, beginning July 2022.
CultureSource will remain a membership association, incorporated in 2007 and based in Detroit, whose mission is to ensure and advance the vitality of cultural organizations and creative people across Southeast Michigan.
The timing of this collaboration could not be more urgent.
Spurred by Covid-19 and other societal disruptions, the cultural sector is experiencing historic upheaval revealing insufficiencies of traditional planning and operating practices and the opportunities for building new changemaking muscles.
As a result of this acquisition, CultureSource's Southeast Michigan programs and support to our members will become much more robust. Additionally, CultureSource will root national service in its existing local practice, using its Metro Detroit home base as an incubator of ideas and talent accessible across the US and Canada.
This transaction is also a significant act of EmcArts stewarding investments that have been made in its capacity over two decades, and it means that the legacy and vision of EmcArts co-founder and long-time president Richard Evans will continue to grow, despite his untimely death in April 2022 after a brief battle with an aggressive cancer.
As validation of this acquisition strategy, in December 2021 CultureSource received funding from SeaChange Capital to cover due diligence expenses. SeaChange is a national nonprofit that specializes in investing in nonprofits aspiring changing how they do business, most often resourcing mergers and acquisitions—and we are encouraged and honored that they believed in the potential of ours.
Across this evolution, in motion since June 2021, we hope to continue to count on your partnership, and we look forward to opportunities to sit with you to chat about the vision.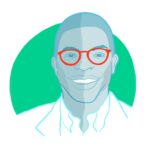 Omari Rush
Executive Director