In my experience, securing a summer internship at an arts nonprofit was like crossing a river in darkness.
My major in art history helped lead me to the wonderland of the arts and cultural sector— I waited patiently after submitting a dozen applications to a variety of employers. But my inbox remained quiet for months.
It made me worry that my summer dream would be doomed… Until I clicked an email sent by a University of Michigan art history student group promoting a recently launched internship placement program via the U-M Arts Initiative, a matchmaker between me and CultureSource.
I feel immensely blessed to be an intern at CultureSource. My colleagues welcomed me with a very pleasant on-boarding experience: A full tour of our office at Chroma, offered me pots of succulents to adorn my apartment, and invited me to tour the Ford Piquette Avenue Plant Museum to marvel at the history of Ford's Model T. Beyond this, they took my career development interests into consideration when pairing me with organizational initiatives.
Now that I'm here, I have been reflecting on my search while interning. There are several things that I would have done differently and I hope people who are new to internships hunting in the arts sector can absorb something which I learnt the hard way.
Have an understanding of arts councils and agencies when starting to look for opportunities. Not knowing too much about the wide breadth of professional practices in the art and culture industry led me to overlook plenty of opportunities in the nonprofit sector. Meanwhile I assumed only extremely well-spoken and charismatic types of people who are also deeply cultivated in a web of connections could be valuable for such organizations. However, now I am aware that the nonprofit side of the art world is a galaxy and it offers so many working opportunities for college students. To illustrate the abundance of the nonprofit sector, there are a range of organizations serving creators and community leaders in very different ways: some are service providers for the arts and cultural community, yet others have a stronger research capacity and focus.
Learn about the local or national arts sector by checking out employment resources compiled by larger art nonprofits like American for the Arts and Michigan Arts and Culture Council, and National Assembly of State Arts Agencies . The number of art nonprofits operating in your area might surprise you, and more excitingly, they want your talent. Local arts agencies and arts service organizations, such as CultureSource, also post local work opportunities on their website. There are usually plenty of opportunities that are provided by organizations in your neighborhood, which can offer you a better chance to secure an in-person internship.
Universities are another reservoir of opportunities for college students. Besides checking out the internship opportunities posted by your home department's website, talk with your professors, go to the career center, and search people via Linkedin. Many art institutions partner up with universities to have the students do projects. For example: Guggenheim does this with Rutgers University and City University of New York. CultureSource's member, ArtsCorpsDetroit bridges students at Wayne State University and local public arts projects.
The most important lesson is that college students should preemptively explore the opportunities provided by art nonprofits in their region. You will be amazed by the possibilities for working in arts & culture!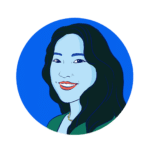 Cynthia Li
Summer Programs Intern
Graphics by Yen Azzaro and pch.vector.