As a part of Watch This Space, CultureSource has commissioned 4 artists based in Southeast Michigan to highlight their favorite works of public art, to encourage you to get offline, go outside, and see for yourself. First up, artist Bakpak Durden!

Hey, my name is Bakpak Durden! I'm an interdisciplinary fine artist, My work centers on community, black trans and queer representation and mental health advocacy. I primarily work in the realms of oil painting, photography, illustration, and murals. I took a bike ride around Detroit to bring you these awesome works of art. There are so many amazing works that inspire me and bring me joy, but I do hope you'll enjoy the selections I've narrowed it down to. Check them out below!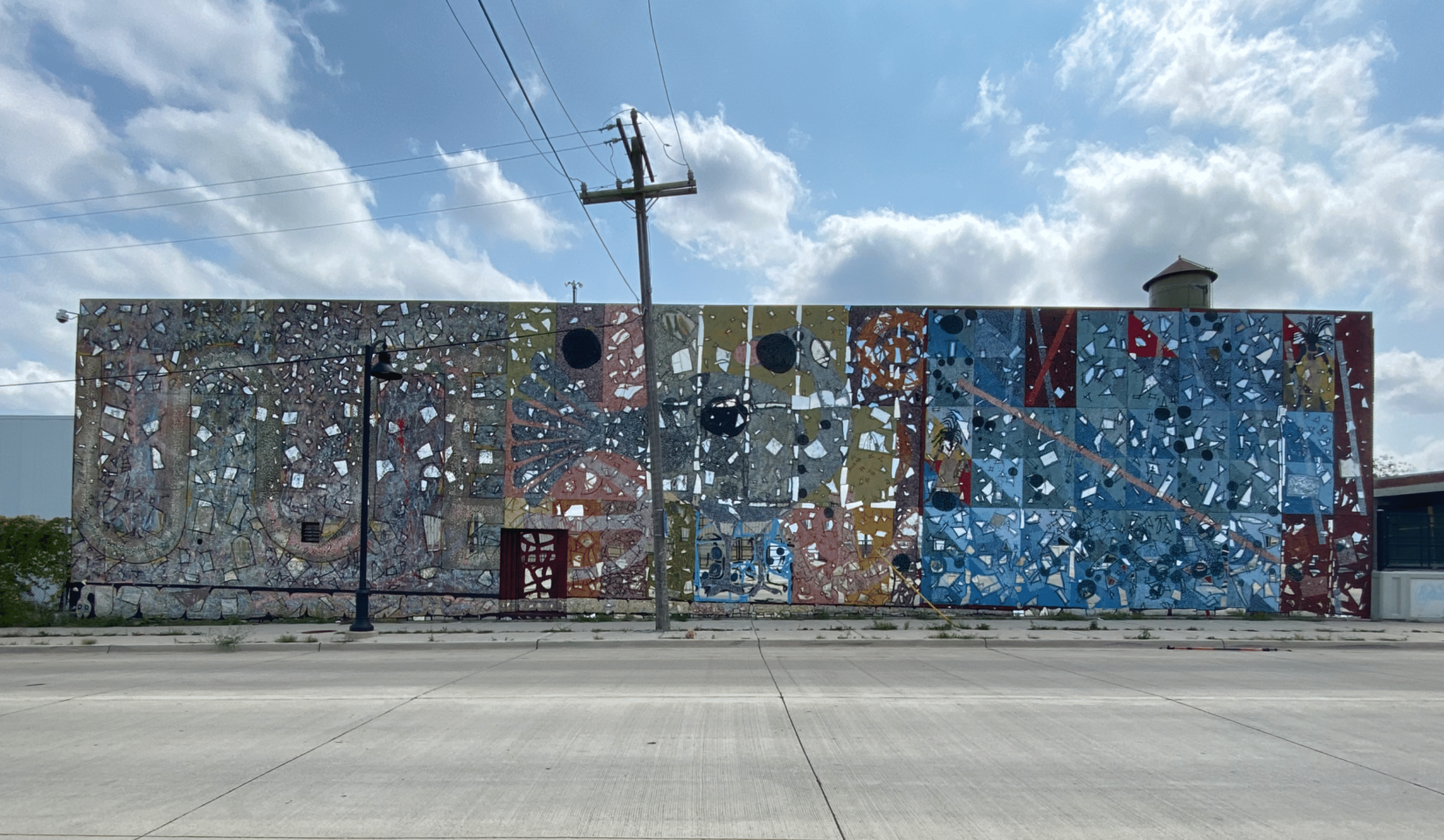 Untitled by Olayami Dabls
Location: Orleans & Wilkins St., Detroit (just over the bridge)
Photo: Bakpak Durden

Every Dabls piece is a gem as well as his African Bead Museum. Dabls' use of the "four elemental materials he believes unite us all" makes all of his artwork relatable and applicable to humanity on many levels.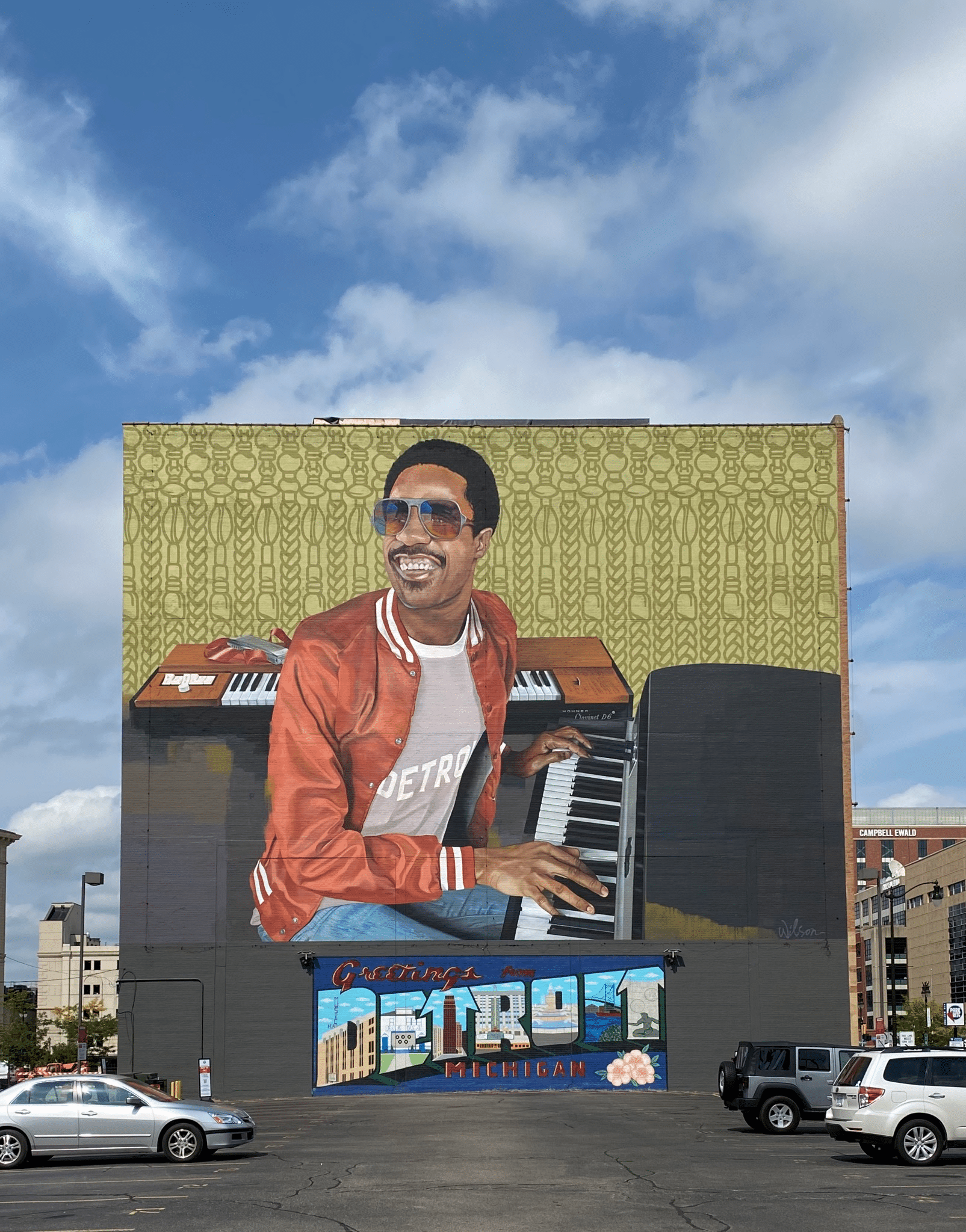 Stevie Wonder by Richard Wilson
Location: 350 Madison Ave. Detroit, MI 48226
Photo: Bakpak Durden
I had the pleasure of working alongside Richard on the adjoining mural to this one, that we started immediately after his completion of the Stevie Wonder wall. I had the chance to pick his brain a bit about it all and his great love and admiration for musical legends. This was his way of showing the most love to one of his favorite living legends in the city that is the birthplace of MOTOWN.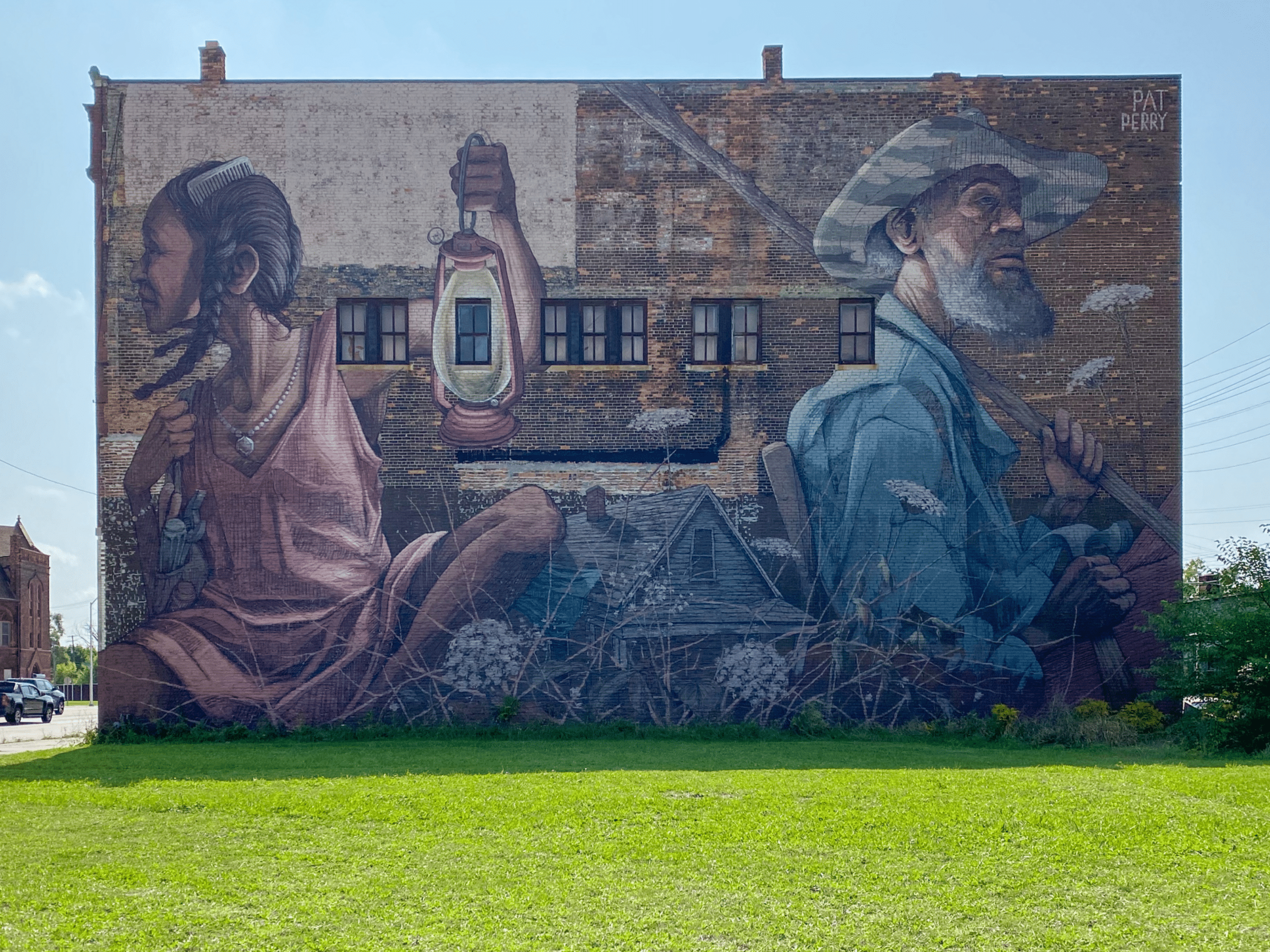 Untitled by Pat Perry
Location: 2933 Gratiot Ave. Detroit, MI 48207
Photo: Bakpak Durden
A reflection of his neighbors and the neighborhood, Pat Perry created this stunning piece that I sometimes go out of my way to just ride by. The composition and subject matter of all of Pat's work is beautifully intentional and artistically inspires me.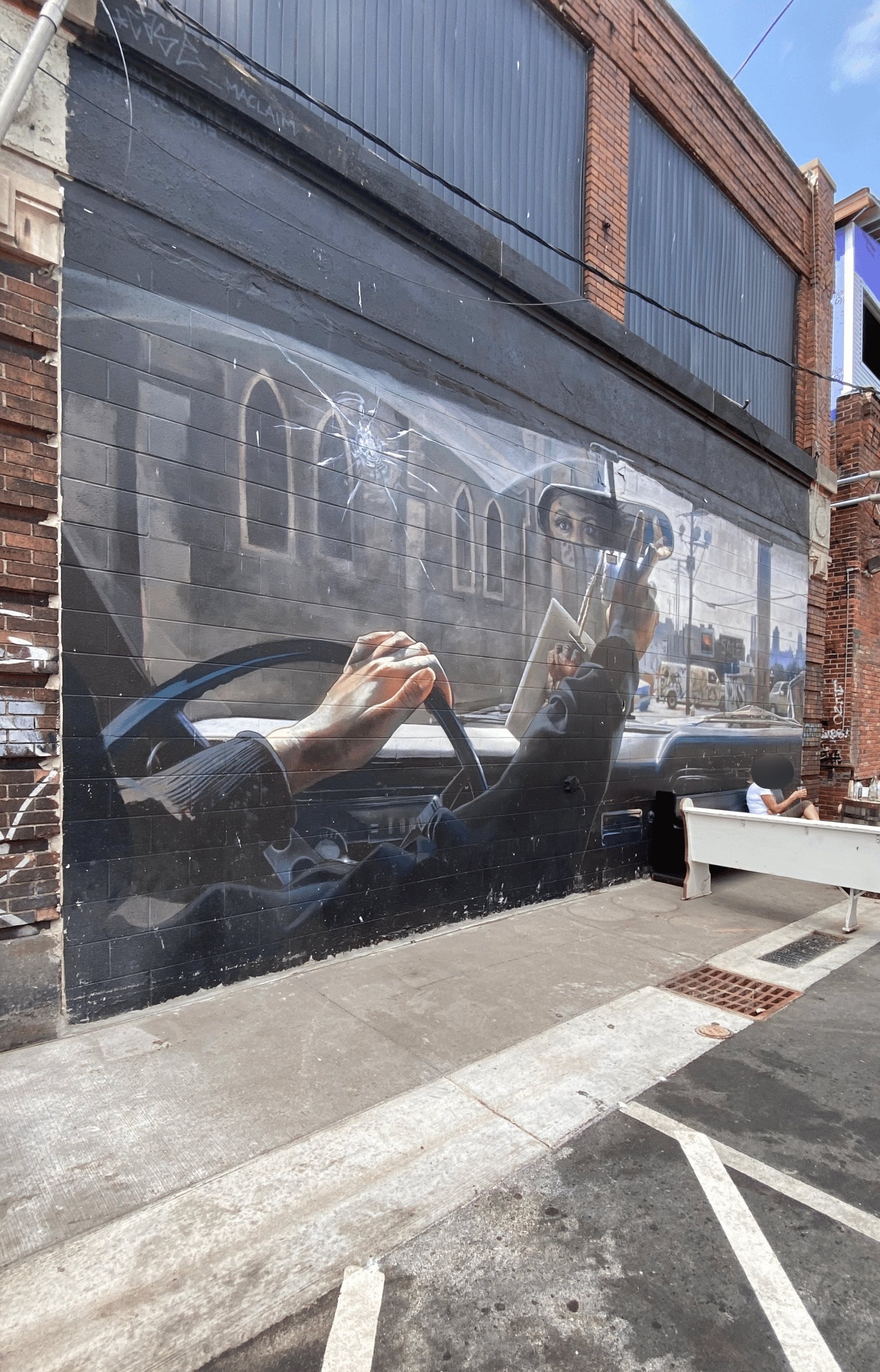 Bette Davis Eyes by Case Maclaim
Location: 2453 Riopelle St. Detroit, MI 48207
Photo: Bakpak Durden
It's like a time capsule of the early days of Murals in the Market. Case's work is also an inspiration for me, and when I finally got the chance to see one of his murals up-close in my own backyard, I was over the moon.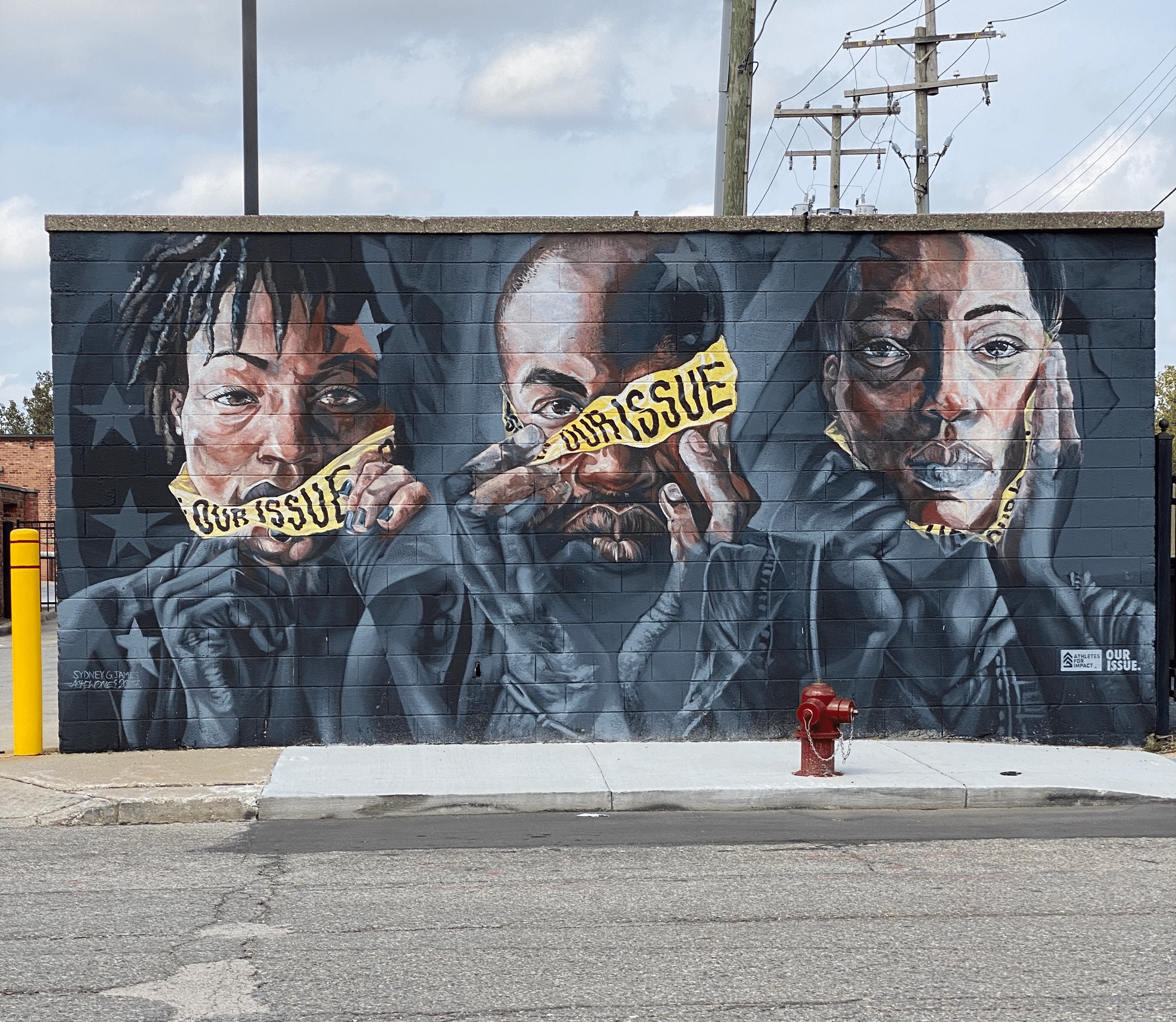 Our Issue by Sydney G James & Askew One
Location: 1400 Erskine St. Detroit, MI 48207
Photo: Bakpak Durden
This mural has layers and layers of inspirational backstory. This mural is a collaboration between the legendary artists Sydney G James of Detroit and Askew One of Auckland, New Zealand. It speaks to the power of public art and addressing the issues we face everyday in the world; in this case, the mural addresses the fight against sexual violence.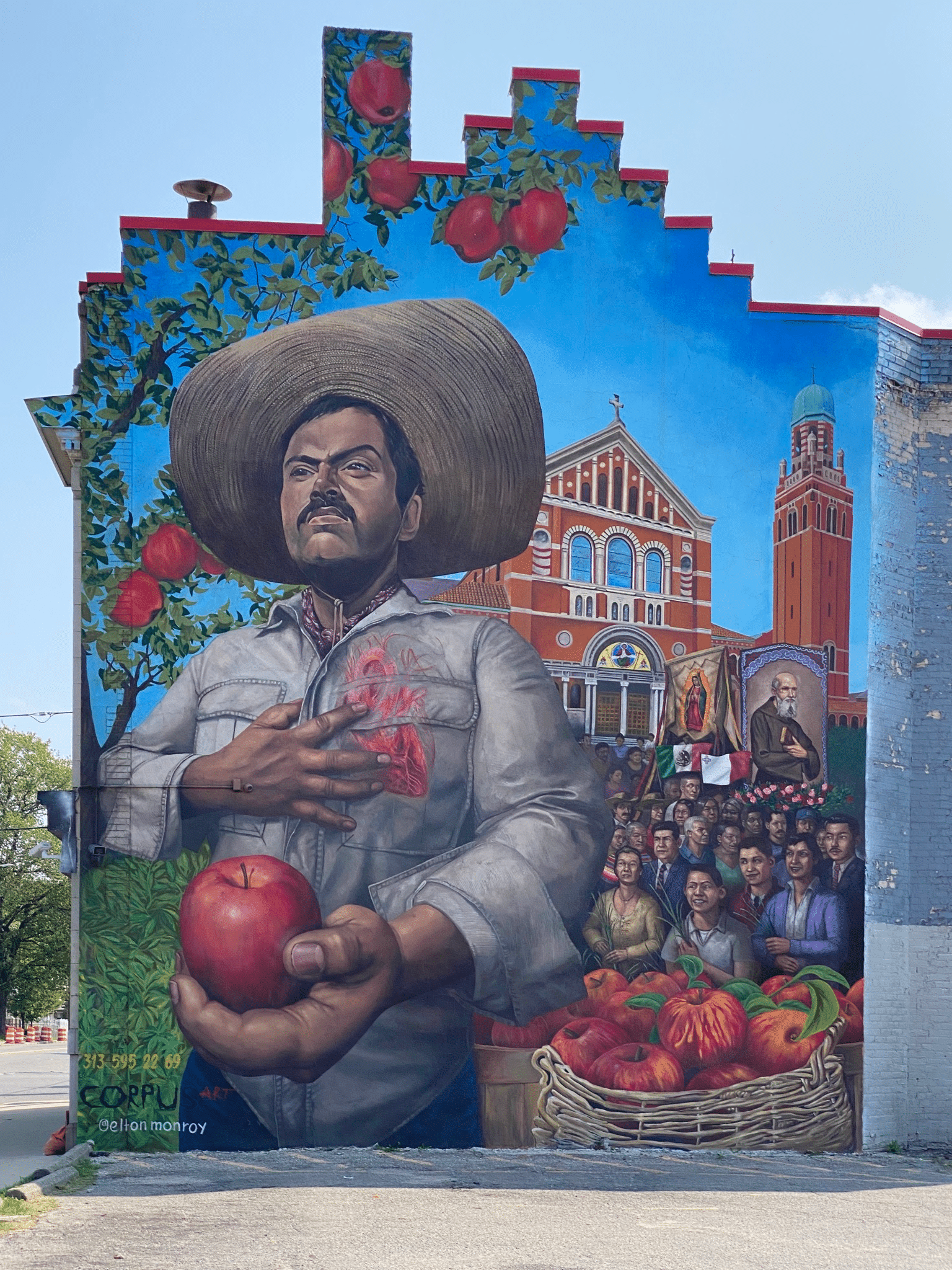 The Dream Picker by Elton Monroy Dúran
Location: 5602 W, Vernor Hwy, Detroit, MI 48209
Photo by Bakpak Durden
Elton has painted most of Southwest Detroit and it's truly beautiful to see. This piece is maybe my favorite or one of them. Especially because his intention and message behind it is very important and he adds a lot of culturally specific relevance from his experience and that of the community the mural exists in.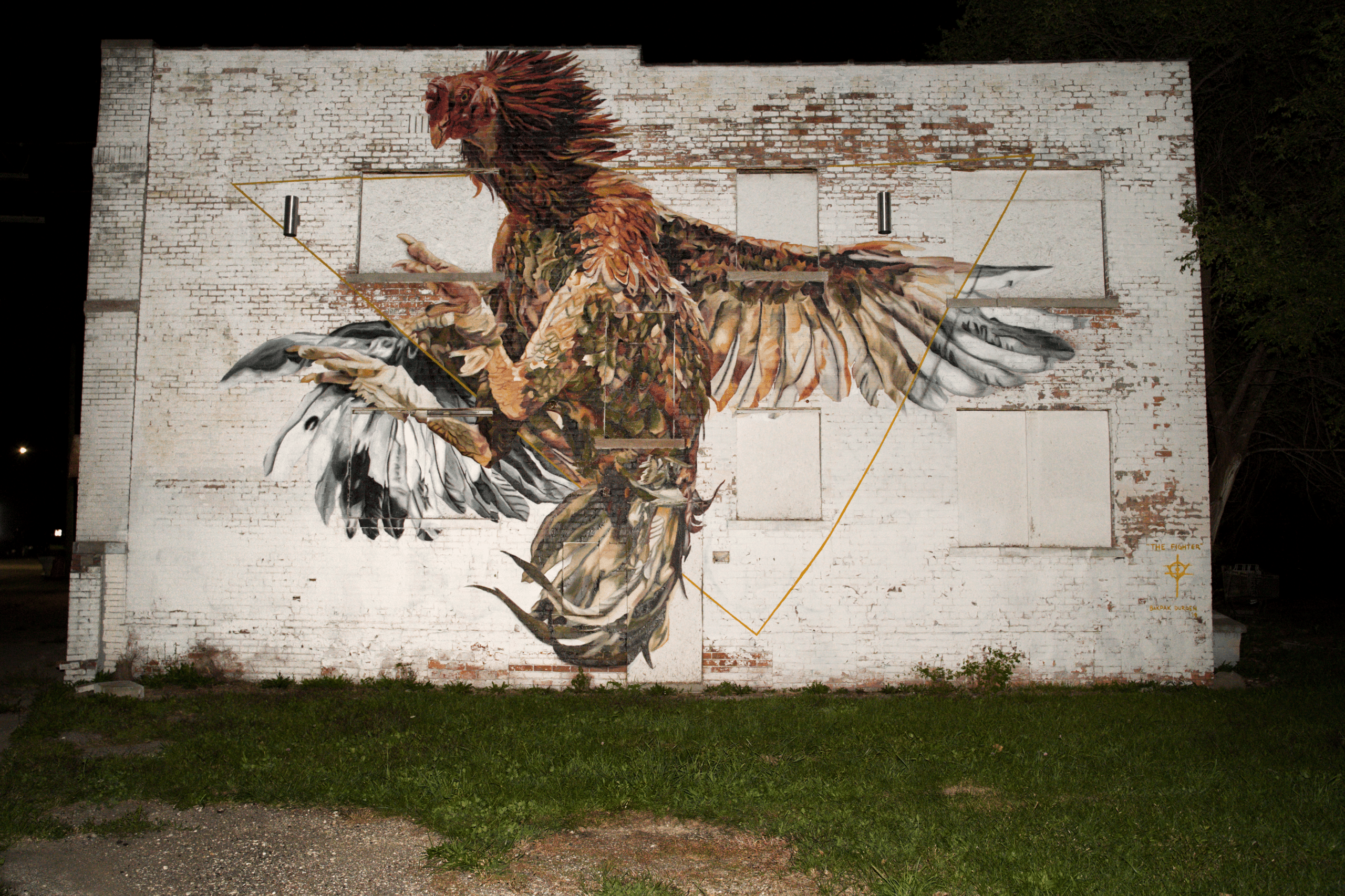 The Fighter by Bakpak Durden
Location: 4550 Michigan Ave. Detroit, MI 48210
Photo: TJ Samuels
I painted this last year and was interested in reflecting the community this piece would be a part of. The rooster is celebrated as a resilient animal in many Latinx communities and I feel like in Southwest Detroit, the Latinx community is the epitome of resilience.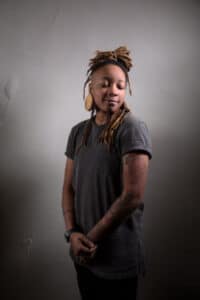 Bakpak Durden
Interdisciplinary Artist
Bakpark Durden's work centers on community, black trans and queer representation and mental health advocacy, primarily working in the realms of oil painting, photography, illustration, and murals. To see more of their work visit bakpakdurden.com or follow them on Instagram at @bakpakdurden