Definitions of system emphasize regularity, harmony, organization, and functionality. Surveying our field right now, few spaces seem to have the reliability of a system.
But digital innovations, labor movements, inflation, pandemic impacts, and climate volatility are remaking long standing molds of work and leisure.
The intensity of uncertainty these elements are generating could be paralyzing, but at CultureSource, we see it as galvanizing, a time of action and advancement.
Our plan is to counter doom-and-gloom headlines with inspiration for changemaking. We see the trends of audience, membership, donor, and bank account decline, but we also see the potential of new models, experimentation, and partnerships to spur trends of ascension.
We meet this moment of opportunity with a five-pronged program about navigating the new and unusual normal:
CEO Roundtables (New, August to November) — four monthly calls providing executives space for coordination and commiseration; co-hosted by Diana Abouali (Arab American National Museum), DeLashea Strawder (Mosaic Youth Theatre), and Susan Westhoff (Ann Arbor Hands-On Museum).
What's Happening? Workshop Series — hybrid sessions offering in-person lunch and macro insights on audiences, economics, artists, and policy, featuring Isaac Brown (National Assembly of State Arts Agencies), Maura Cuffie (Creatives Rebuild New York), Christina deRoos (Kresge Arts in Detroit), Liz Dreyer (EmcArts), Melissa McKinley (Kelley Cawthorne), Eric Nelson (TRG Arts), Susan Nelson (TDC), and Laura Zabel (Springboard for the Arts).
New Research — launching studies with partners (8 Bridges, Indiana University's AEI Lab, and WolfBrown) to collect insights on the current environment and make recommendations for paths forward.
Policy Advocacy — working with a policy consultant and a newly-formed member policy working group, we are developing an action plan for durable change benefiting the collective cultural sector of Southeast Michigan.
Info Hub — similar to our Covid response resource hub, we are centralizing data, recommended readings, and other resources on a new, regularly-updated micro-site, giving you on-demand access to critical information.
The plan above will grow and evolve, and with our new capacity for adaptive changemaking (gained through integrating EmcArts into CultureSource), we remain steadfast in supporting your success.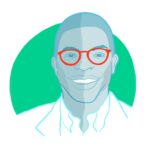 Omari Rush
Executive Director