During the 2021 iteration of Watch This Space, we spent a week in September exploring ideas from local and national leaders working at the intersection of sustainability and art. As we continue to critically examine the creative community's role in fostering more sustainable organizations, CultureSource caught up with Leslie Sobel to discuss what role artists may play in advancing this mission.
What is the role of artists in raising awareness about climate change and combating it?
I believe that data and scientific understanding are deeply important to addressing climate change but I also think that people don't tend to change behavior because of data but rather because of emotion and connection to issues and places. As an artist I can help elicit those responses by making connections clearer and tapping into emotion.
What advice would you give to artists looking to take their first steps towards more sustainable practices? Where do they get started? Where can they find resources?
Think about the environmental impact of your materials–how polluting are they? How long will they last? Does working in that way create more waste? And does that material choice have connection to the meaning of the work one is making? Art materials are a pretty small part of the overall issues we are facing but thinking sustainably can start a conversation. I try to recycle materials when I can and to be mindful of what I am making and why.
What event (or moment of realization) led you to become a climate artist and activist?
As the daughter of two scientists, I had been using digital tools and data in my work for many years and got obsessed with the effects of climate change on the high latitudes early in the 2000s. In 2009 I chaperoned a high school service learning trip to New Orleans to work on the continuing clean up–4 years after Katrina. The devastation that remained was a really stark demonstration of the power of storms and the magnitude of what we're facing more and more of.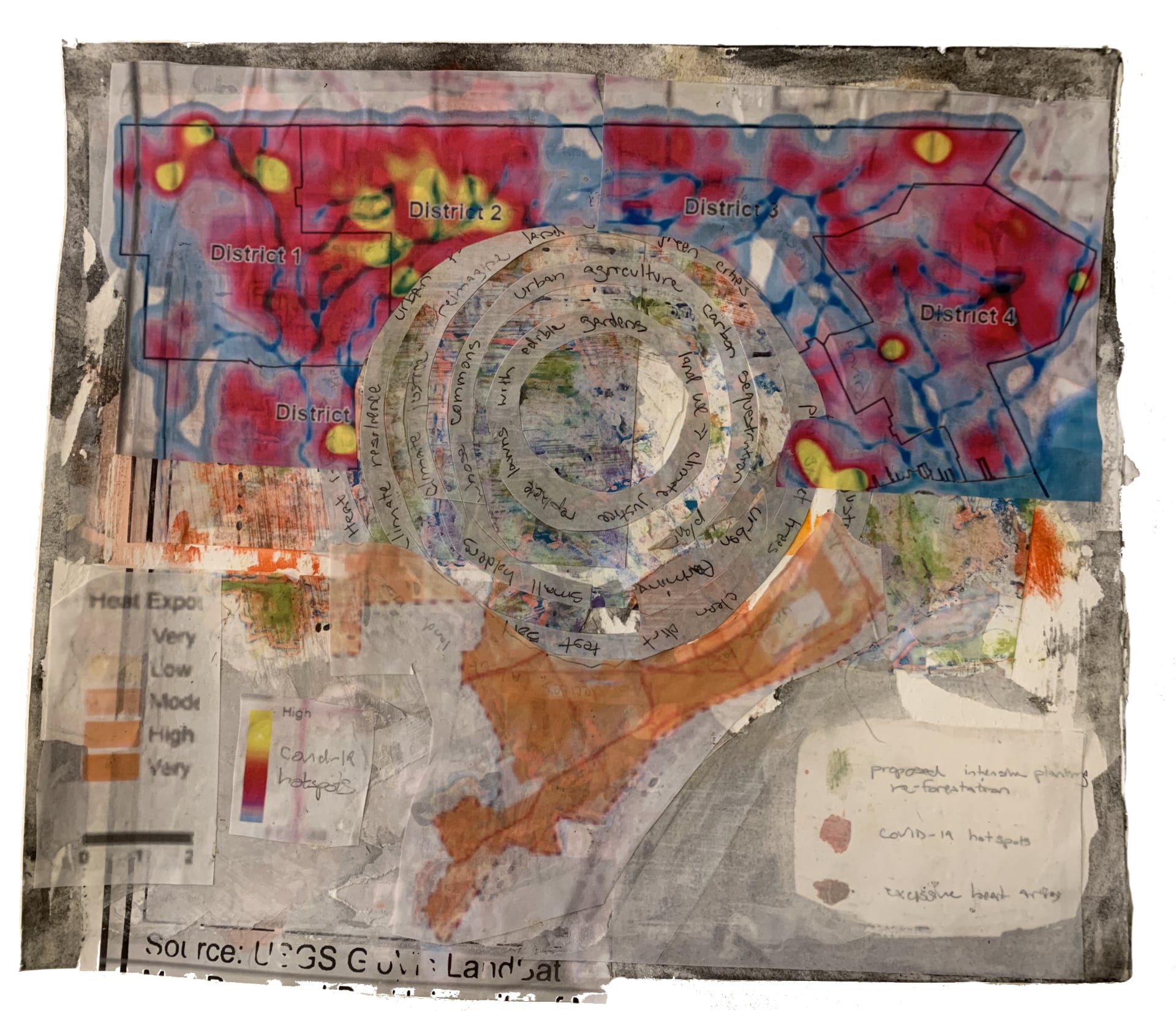 Tell us about the Detroit Data map project? How did this piece combine art and data?
In 2020 I curated "Yeah, What Lester Said," at Lawrence Tech University's Detroit Center for Design and Technology. I'd been thinking about issues of environmental justice for a while and started looking at maps showing issues in Detroit including flooding, air pollution and poverty. And then I started looking at COVID hot spots and was unsurprised to find how many of these issues connected. Overlaying maps is something I often explore so this was not shocking but was a stark reminder of the linkages between these issues. Using color, intentional roughness, collage and writing lets me up the emotional connection to the data so it becomes more than an infographic.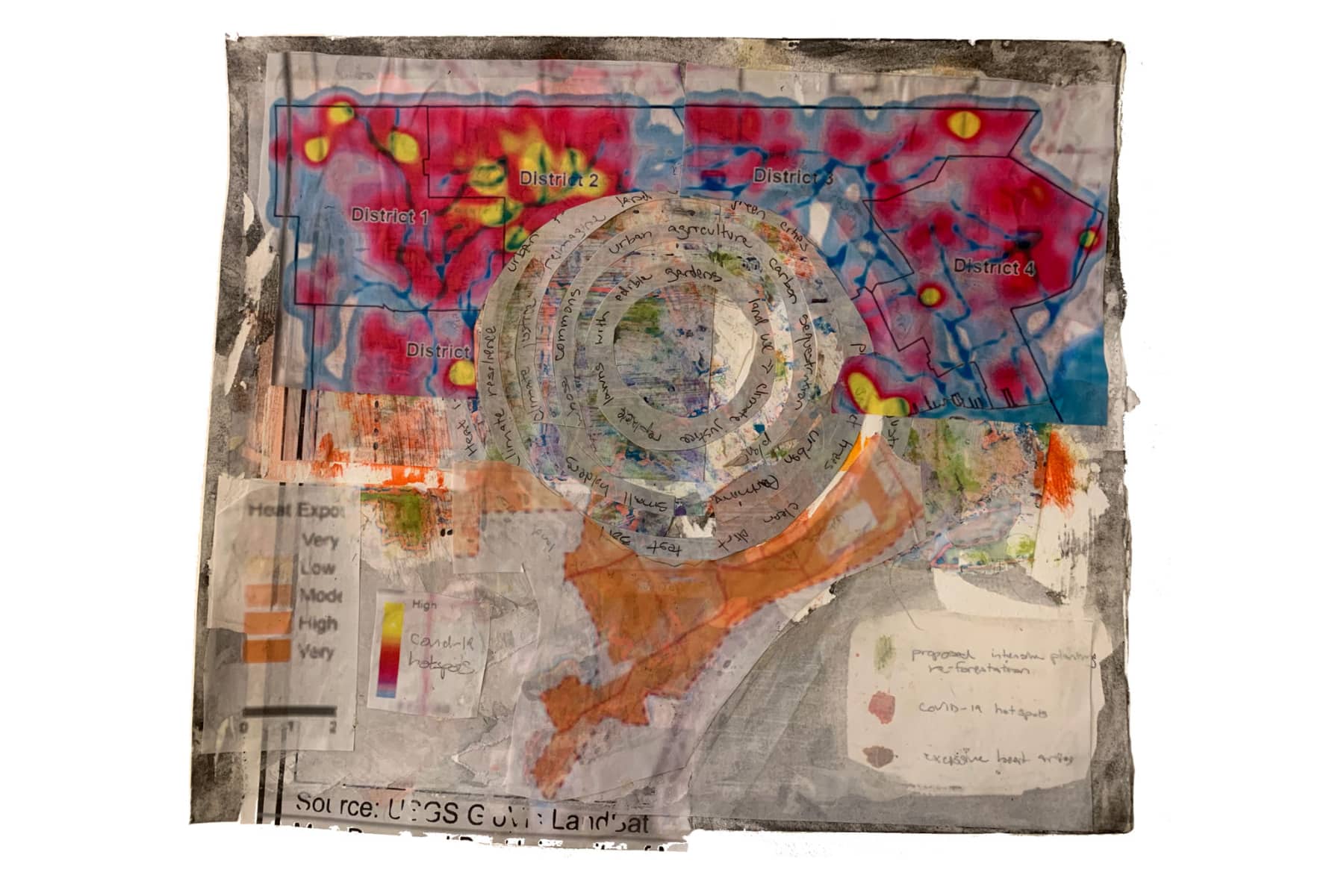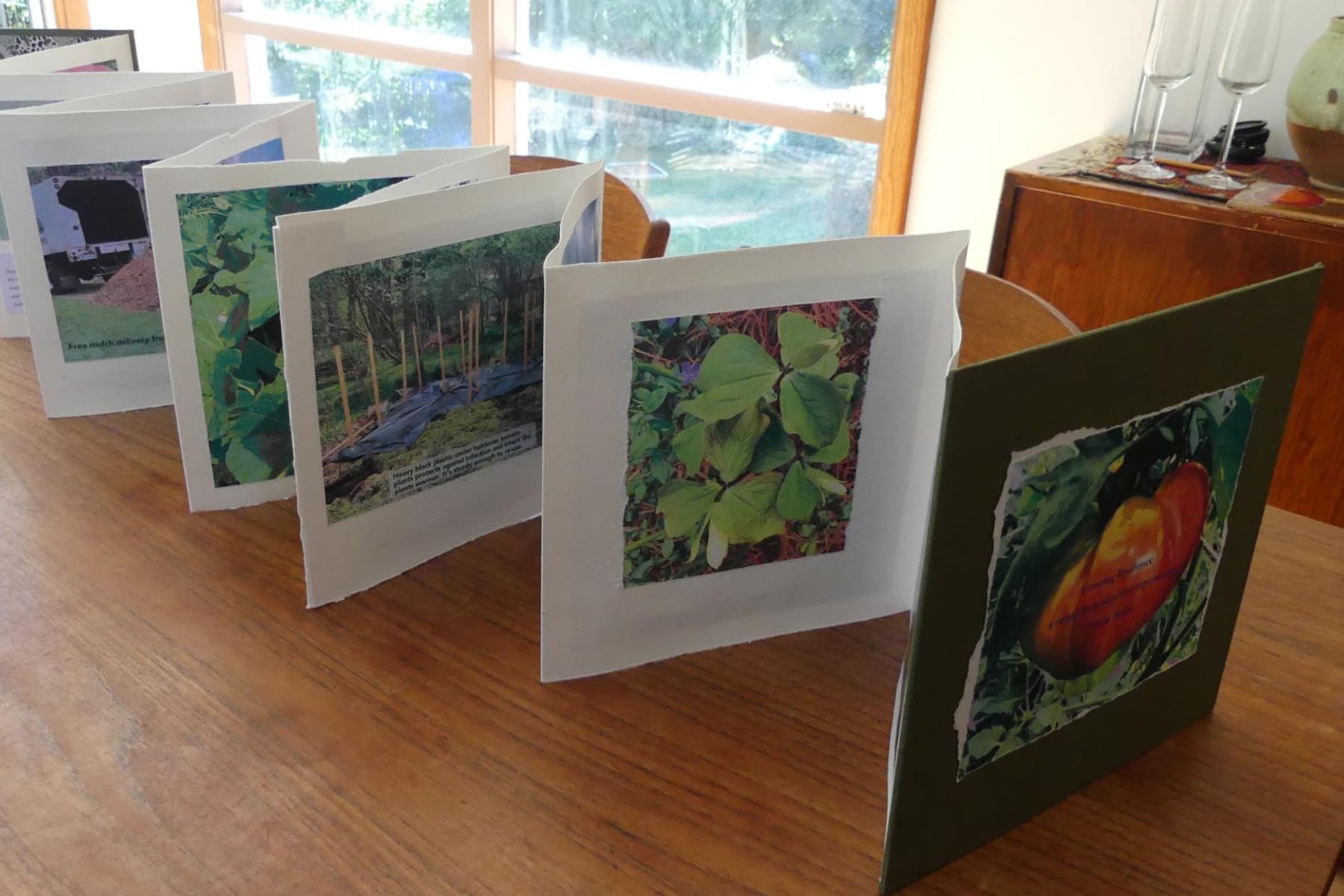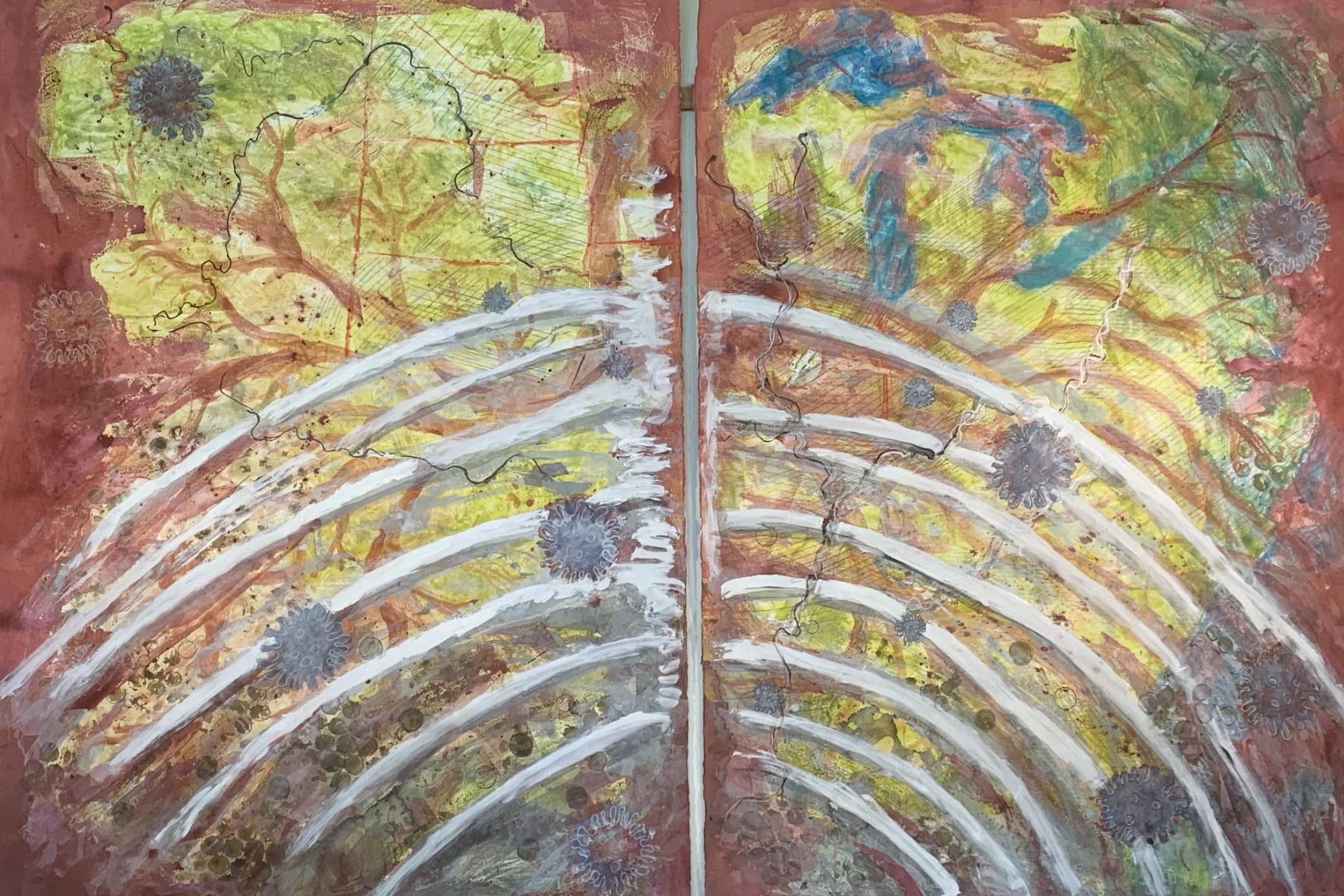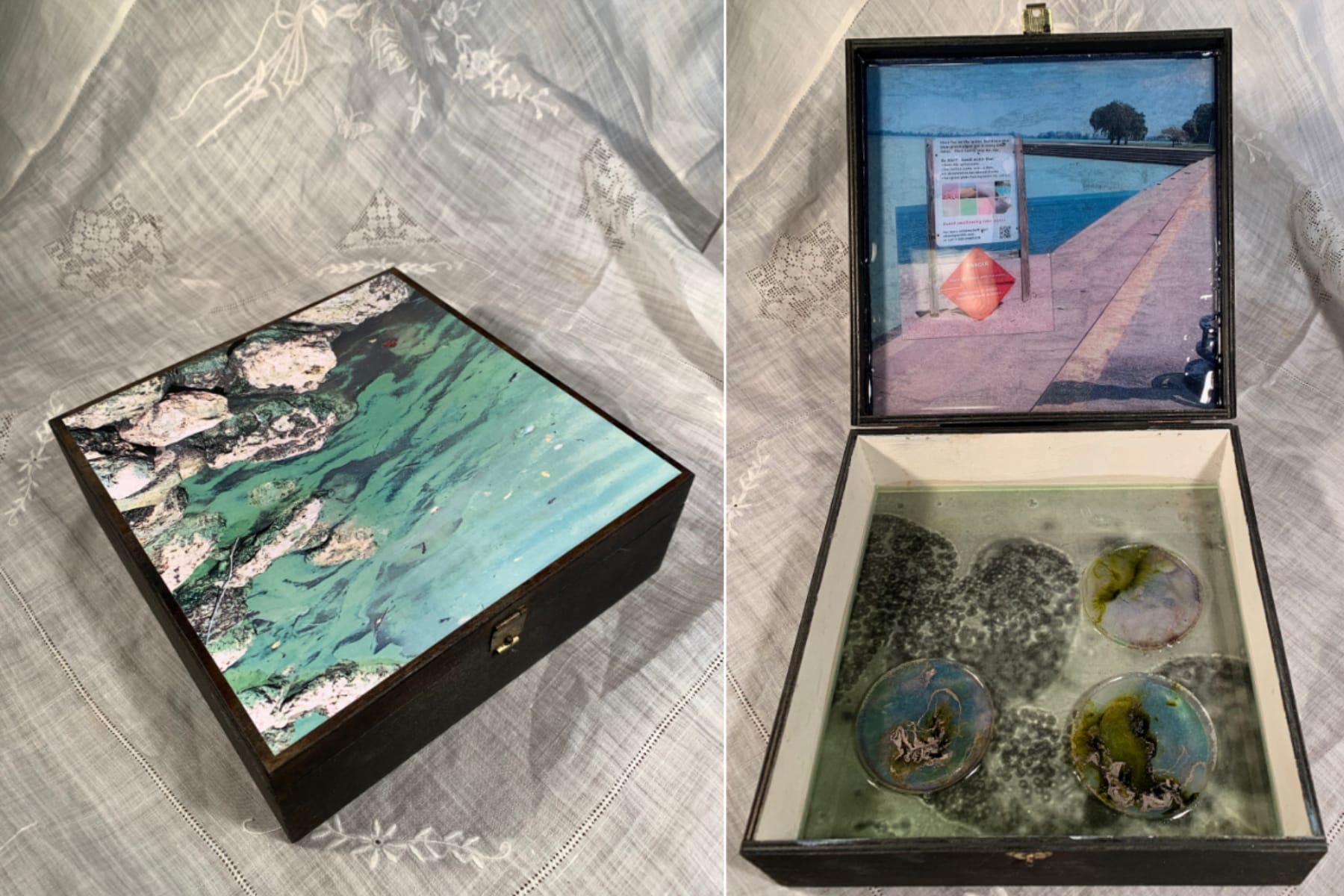 Ecoartspace: A collective where artists can imagine and make real a healthy, equitable, resilient future
Artists & Climate Change: A blog that tracks and highlights creative commentary on climate change.
SciArtInitiative: A group that explores the intersection between art, technology and climate.